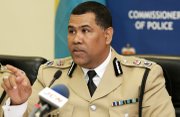 THERE has been no word from Police Commissioner Ellison Greenslade on whether action will be taken against the person or persons who re-posted photos that led to Rodney Moncur being charged before the courts.
As Bahamians continue to protest Mr Moncur's treatment, two of the photos in question have resurfaced on Facebook pages.
Repeated calls to the Commissioner were not returned up to press time and other senior officers on the Royal Bahamas Police Force refused to comment.
One of the photographs, the body of Jamie Smith – a man who died while is police custody last month, was uploaded onto I CNN yesterday afternoon.
The other photograph published on Facebook is a picture of the bruised buttocks of a man who claimed to have been beaten by police.
After the publication of the pictures by Mr Moncur, Police Commissioner Ellison Greenslade confirmed an officer had been charged in connection with that incident.
Mr Moncur was charged with committing a "grossly indecent act" over the publication of the photographs.
He spent one night in custody after being charged before being released on bail the next day.
Last week, Mr Greenslade issued a warning to the public not to post "lewd" or "obscene" pictures on social media – a warning that provoked a strong response online.
A Facebook group set up while Mr Moncur was in custody, named Free Rodney Moncur, gained more than 4,000 members and there was fierce debate in social media over the charges facing the justice of the peace, with some questioning why others who had posted material online, which they considered more offensive, had not been charged.
Mr Greenslade said last week: "I send a clear message to all and sundry: have your fun on social media, send your messages to your friends; but this issue of posting lewd pictures of people, obscene pictures of people – whether they are alive or dead or injured – is an area that's going to get you into grave problems."
When asked if any charges have been made in connection with recent instances of nude photos or recordings being posted online, the commissioner said: "If we haven't, then I intend to. I am going to pursue every single one of them."
The commissioner called on the public to report any instances to police and said the police are in a position today where they can "hold the line" – or uphold the law – as it relates to the internet.