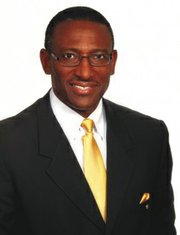 By KHRISNA VIRGIL
Tribune Staff Reporter
kvirgil@tribunemedia.net
MICAL MP V Alfred Gray believes that the Free National Movement is attempting to "wash its hands" of responsibility with regard to the tragic accident at the Mayaguana Airport.
Mr Gray yesterday told reporters that the FNM is hoping to gain political advantage by pointing the finger at the government over the absence of run way lights at the airport.
The minister wants the opposition to take some of the responsibility for the absence of government attention to the runway and infrastructure developments at Mayaguana.
He said: "The government has not made it a political matter. If anybody is doing that its the FNM because really they have no business in it other than to keep an eye on what-s going on until a formal statement is made by the government.
"They ought to remember very clearly that they have to be wiling to take some responsibility for the airport not being completed. When we left office in 2007 the airport and the terminal were under construction. The FNM stopped the progress of that development. They stopped it for four years.
"I think its stupid for the FNM's chairman to feel that we are going to lay down and play dead over this issue. Its unfortunate. The government now has to make some very firm decisions for the way forward on that airport."
A few days after the accident, FNM Chairman Darron Cash issued a press statement accusing the PLP and Prime Minister Perry Christie of acting like "cowardly and cold hearted."
He criticised Transport and Aviation Minister Glenys Hanna-Martin and Mr Gray for their statements in the wake of the crash.
Mr Cash said: "In the immediate hours following the crash the first words from the prime minister should have been words of comfort and prayers and a call for support and comfort for the family."
"Instead, Bahamians got the reaction of a cold-hearted political coward who lacked the common decency to put people before politics. Rather than taking the high road and showing the statesmanship demanded at a time of tragedy, the prime minister decided to duck and cover and blame someone else for the failures of his government. Mr Christie's behaviour was as disgraceful as it was disappointing."