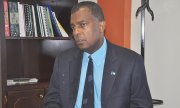 By NEIL HARTNELL
Tribune Business Editor
nhartnell@tribunemedia.net
The minister responsible for immigration yesterday declined to commit to the '20-day response' timeframe sought by the private sector for work permit approvals, admitting that "a drastic increase" in staff and technology was required to achieve this.
While sticking to his, and the Government's, previously announced stance on their proposed work permit policy, Fred Mitchell revealed that the absence of a digital system at the Immigration Department meant files containing applications were "literally piled up to the roof".
Addressing a Bahamas Chamber of Commerce and Employers Confederation (BCCEC) luncheon, the minister effectively conceded that a '20 working days' response timeframe on work permit applications was not possible under the current system.
Pressed repeatedly on the issue by Superwash president Dionisio D'Aguilar, who asked whether the Government could commit to a 40-day or 60-day response time if 20 days was impractical, Mr Mitchell also declined to go that far.

"I wouldn't say it's impossible," Mr Mitchell said of establishing a set timeframe for work permit approval decisions. "All those [timelines] are possibilities. I have to be very, very careful. I don't want to over-promise.
"There needs to be a drastic increase in investment in equipment and manpower to accomplish what you are asking."
Chester Cooper, the BCCEC's chairman, expressed disappointment to Tribune Business afterwards that the Government appeared not to have moved on the business community's "key concern" - a transparent work permit approval process and definitive timeline by which an approval/rejection would be submitted.
Mr Cooper said addressing this was vital to a company's planning and strategic development.
"I think there's some progress to the extent that the dialogue continues, but the Minister said today that he's not particularly advanced the issue on the timeliness of issuing permits," the BCCEC chairman told this newspaper.
"That remains the concern of the business community. That is the key. We want to be able to plan when making applications. We had asked the Minister to work towards a 20-day timeline for approval or not.
"We believe in Bahamians first, but believe in a transparent, efficient process for the processing of work permits."
The minister was also questioned by Queen's College officials, who said the Government had imposed a "significant financial burden" on the school by only renewing most expatriate teacher permits for one year.
Queen's College employed most expatriate teachers on two-year contracts, and sought work permits of the same length to match, but for the current school year 95 per cent of the new and renewal permits were issued for one year only.
Mr Mitchell, meanwhile, added of the Immigration Department: "A system of digitisation was supposed to have been put in place over the last five years.
"What that turns out to be is that the forms you fill out by hand are scanned and put in the file. The equipment they had to do that is not adequate for doing that job. The result is that files are literally piled up to the roof."
While the Immigration Board was meeting weekly to determine work permit applications, plus residency, citizenship and other matters, Mr Mitchell acknowledged that a "gap" existed in the process between the initial application and fee payment.
He disclosed that a file could "sit for five. six, seven months" before the relevant documents were scanned, and told business owners to contact him if they had a specific Immigration issue that needed urgent attention.
Promising that he would then seek to call up the file in question, Mr Mitchell then conceded: "I know that's not the way to solve it systematically, but that's the reality."
The Minister then indicated that recent incoming passenger queues at Lynden Pindling International Airport (LPIA) may have been caused, at least in part, by problems with Immigration's border scanning system, which had "ground to a halt".
He told the private sector that Dubai, with its e-gates and ability to assess retinal (eye) scans in three second was "where we should be headed".
"The likelihood of us getting, in the short-term, on top of this without investment in manpower, I don't think so," Mr Mitchell said. "Are we working on it? Yes.
"'I've assembled a team internally to see about doing away with paper, building an entirely digital system so that applications can be done online. Hopefully, that can be done in a year."
Mr D'Aguilar, meanwhile, suggested that companies seeking to expedite their work permit applications should pay a higher fee for the quicker response/turnaround time.
Taking on "the rhetoric that has been flying around" from Mr Mitchell and others in the Christie government, the former Chamber president sought to counter the notion that companies preferred to hire foreigners over Bahamians, despite the fact it was more costly and time consuming to do so.
"I concluded that, in my humble opinion, that in 99 per cent of the companies in this country, 99 per cent of the workforce is Bahamian," Mr D'Aguilar said. "The majority of Bahamian businesses, 99 per cent of the workforce is Bahamian."
In response, Mr Mitchell said the Government could not sit idly by when the unemployment rate for under 25s in the Bahamas was around 30 per cent.
Adding that "we have to take a stand" on the issue, given that significant social problems and potential unrest this breeds, Mr Mitchell said he had met Bahamians aged 23 and 25 who had "never held a 9-5 job in their lives. That cannot continue".
He acknowledged that much dysfunction in Bahamian society resulted from persons not having a "systematic upbringing" and "socialisation", resulting in them "scrapping from place to place" and lacking the discipline imposed by regular, legitimate work.
"You cannot have a large, young male population, especially, sitting idly at home and on the streets looking on while foreign workers come into the country and are doing jobs which it appears with a small investment in training they, the Bahamians, men and women, can do," Mr Mitchell said.