By KHRISNA VIRGIL
Tribune Staff Reporter
kvirgil@tribunemedia.net
THE College of the Bahamas Union of Students are demanding an apology from House Speaker Kendal Major and the police after they were barred from entering Parliamentary proceedings.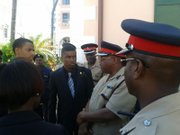 Speaking to reporters yesterday, the student union said they took grave exception to being singled out last week Wednesday as dangerous to Members of Parliament.
They further questioned how authorities were able to conclude that COBUS had planned to disrupt House business.
At that time,  COBUS representatives were told by high ranking officers that they would not be allowed to sit in the gallery of Parliament because of security concerns. The group has denied the claim and maintains that COBUS only wanted to observe, without disruption, and leave after the proceedings came to a close.
The students were speaking at a press briefing at the College campus. 
College of the Bahamas Senate speaker Ramon Gardiner said: "We have many questions about what transpired that day. What laws give the police the authority to pick and choose who enters into the House of Assembly? How exactly were we a threat and who exactly was in danger?
"Is the crux of the matter simply that any time a group of college educated students stands up for something in this country they are immediately perceived as a threat and must be contained?
"Is this still a democratic nation that we live in where fundamental rights still apply?
"The College of the Bahamas Union of Students (COBUS) would like an apology from the Speaker of the House and the Royal Bahamas Police Force for the perceived characterisation of our student union as being a threat to anyone."
The 14 students at the centre of last week's incident were forced to wait behind barricades for four hours to speak with Prime Minister Perry Christie on a list of recently implemented non-tuition fee increases. 
Shortly after 9 am, they were told by Assistant Police Commissioner Leon Bethel that they would not be allowed in the building.
He said: "We have to protect our government. We have to protect our institution. That is what you put us here for as members of the public. You want us to maintain law and order and that is why we are here."
Although the Prime Minister arrived at Parliament square at about 10:30 am, he was escorted into the House without acknowledging the students.
When the meeting recessed for lunch, Mr Christie told COBUS that he had no idea what they were talking about. He promised to get to the bottom of what was happening at COB.