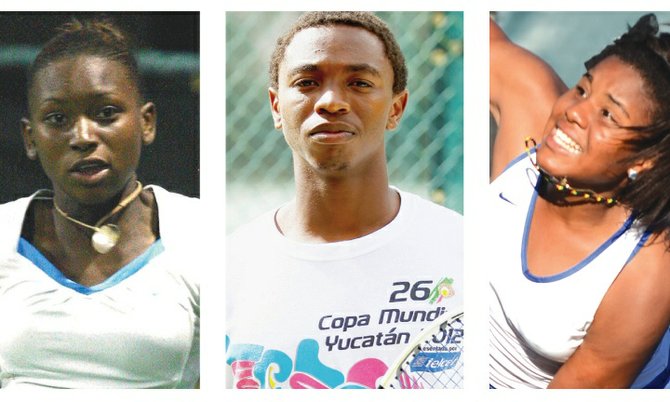 By BRENT STUBBS
Senior Sports Reporter
bstubbs@tribunemedia.net
THE Bahamas' top two junior female tennis players - Simone Pratt and Danielle Thompson - came close to a complete sweep of the top two spots at the JITIC 2013 Grade B3 in Dominican Republic.
In the girls' singles final on Saturday, Pratt fell short of winning the title, while Thompson teamed up with Cassandra Vazquez of Mexico on Friday to claim the crown in the doubles.
On the boys' side, Kevin Major and Justin Roberts reached the third round before they were eliminated and, in doubles, they got into the semifinal where they were ousted.
A number of other male competitors also competed in the week-long tournament.
Bahamas Lawn Tennis Association president Derron Donaldson said he was quite pleased with the performances of all of the players. "We've had players like Larikah Russell, Justin Roberts, Kerrie Cartwright and Kevin Major play exceptionally well in this tournament in the past, so it was good to see Simone come so close to winning another title for the Bahamas," Donaldson said. "Danielle also played well in singles and she won the doubles. Our boys have also played extremely well and even though they didn't get to the final, we are very proud of how well they all played."
Donaldson said this was just an indication of what the Bahamian players are capable of doing.
"We got some correspondence from Cecilia Ancalom from COTEC, who travels to all of the JITCIT Tournaments and she said she was impressed with the way the players have all performed," Donaldson said. "She said the Bahamian players have always performed well."
After they got a bye in the first round, Pratt took care of Andrea Sanchez Sainz of Mexico 6-2, 6-0 and Thompson won 6-3, 6-4 over Laura Arce, also from Mexico.
In round three, Pratt upset No.5 seed Jessica Hinojosa Gomez, also from Mexico, 1-6, b7-5, 6-1, but Thompson went down 6-3, 6-4 to No.7 seed Ana Sofia Cordero from Puerto Rico.
Pratt's biggest victory of the tournament came in the semifinal where she sent top seed Constanza Gorches from Mexico packing with a 2-6, 6-3, 7-5 decision.
In the final, Pratt came up on the losing end 6-2, 6-4 against No.2 seed Cassandra Vazquez from Mexico.
The doubles teams all got a bye in the first round.
Thompson, teaming up with Vasquez as the No.3 seeds, won their second round match 6-1, 6-2 over Maria Jose Colorado Zavala and Alexia Countino Castillo from Mexico. They won 6-1, 6-3 in the quarter-final over No.8 seed Alexandra Mercado Baez and Kayla Portalatin.
In the semifinal, Thompson and Vazquez prevailed with a 3-6, 6-4 (10-8) win over Maria Fernanda Navarro Oliva and Ana Luisa Perez Lopez, the No.5 seeds from Mexico. And in the final, Thompson and Vazquez took care of No.4 seeds Jessica Cortes from Mexico and Yolimar Ogando from Puerto Rico.
Pratt, meanwhile, teamed up with Cordero as the No.6 seeds. They won their second round 6-2, 6-1 over Daniela Raygadas Dominguez and Andrea Sanchez from Mexico. But they lost out in the quarter-final to Cortes and Ogando.
In the boys singles, Kevin Major, playing as the No.14 seed, lost 5-7, 7-6 (5), 6-3 to Mexico's No.4 seed Alan Nunez Aguilera, while No.16 seed Justin Roberts lost 7-5, 6-2 to Mexican No.2 seed Rogelio Siller.
In the second round, Major won 7-6 (3), 5-7, 6-4 over Oliverio Ortega Lorandi from Mexico and Roberts beat Mexican Angel Peredo 6-3, 6-3. Also, Philip Major won 6-2, 6-2 over Mexican Jorge Ortegon.
In the first round, Kevin Major def. American Emilio Andrea Segarelli 6-1, 6-4; Roberts triumph 2-6, 6-1, 6-1 over Mexican Brandon Ari Villavicencio Licona and Philip Major pulled off a 7-6 (4), 6-2 decision over Mexican Alvaro Zaragoza. Rasheed Carey, however, lost 7-6 (3), 6-3 to Peter Bertram.
Top seed Lucan Gomez from Mexico clinched the title with a 6-4, 6-2 decision over Aguilera.
In doubles, No.8 seeds Kevin Major and Justin Roberts got to the semifinal where they were ousted by the No.5 seeded team of Santiago Cevallos of Mexico and Jose Pablo Gil from Croatia 2-6, 6-4 (10-6). Cevallos and Gil, however, lost 4-6, 7-6 (0), 10-8 to No.2 seeds Diego Omar Nunez Felix and Adrian Oritz from Mexico.
In the quarter-final, Major and Roberts def. Jonas Illescas Maury and Alvaro Zaragoza from Mexico 6-3, 6-4, but Carey and Major lost 6-4, 6-4 to Nunez Felix and Ortiz.
In the second round, Major and Roberts won 6-3, 6-4 over Jose Andrea Illescas Maury and Alvaro Zaragoza from Mexico, while Rasheed Carey and Philip Major won 6-2, 6-3 over David Perez and Manuel Jose Rodriguez.
The federation is now preparing to send junior under-14 and under-16 teams to compete in their JITIC Tournament in Santo Domingo. The 18s will have an opportunity to compete as well, but at their own expense.