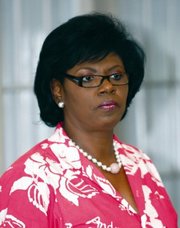 By NATARIO McKENZIE
Tribune Business Reporter
nmckenzie@tribunemedia.net
THE NASSAU Airport Development Company (NAD) said yesterday it was "deeply concerned" over the impact of US air traffic control staff reductions, in addition to similar cuts at US Customs & Border Control (USCBP) operations at the Lynden Pindling International Airport (LPIA).
NAD said while it had not seen much impact yet at LPIA, "the potential to cause serious disruptions to our airports will come as summer gets busier".
The cuts, which started on Sunday, reduced staffing by 10 per cent, and limits the ability of some of the US' busiest airports to handle arrivals and departures, resulting in flight delays.
"NAD is deeply concerned about the impacts of sequestration, not only from US Air Traffic Controllers but also from US Customs and Border Protection staff assigned to LPIA," the airport' operator said yesterday in response to queries by Tribune Business.
NAD's chief executive, Vernice Walkine, said several weeks ago that budget cuts would impact US Customs & Border Control (USCBP) operations at the airport, raising the spectre of a repeat of last summer's passenger 'logjams' in US pre-clearance.
Last summer, more than 350 flights departing to the US from Lynden Pindling International Airport (LPIA) were delayed during a 10-week period due to problems at US pre-clearance.
"NAD has spent an enormous amount of money to build a world-class airport facility that will welcome and process visitors and residents alike, in modern, beautiful, and well-functioning terminal buildings. We certainly do not want to see anything that would distract or take away from a world-class customer experience, either for our arriving or departing passengers," the LPIA operator said.
"NAD has been closely monitoring the implementation of sequestration from the outset, and the potential impacts on our airport, our passengers and our tenants. We have been busy developing action plans that could help mitigate some of the negative impacts caused by reductions in staff levels as a result of overtime cuts or US government employees being forced to take furloughs.
"While we fully understand the importance of living within budgets, we are also mindful of the critical importance of aviation and tourism to our country, our city and our airport.
"That is precisely why NAD borrowed hundreds of millions of dollars to build new and expanded terminal facilities, and why our commercial tenants have invested heavily in new retail stores, food and beverage facilities and airport lounges.
"While we haven't seen much impact yet at LPIA, the potential to cause serious disruptions to our airport will come as the summer gets busier. NAD will continue to monitor the developments closely, and will work with our industry partners to identify any and all opportunities to mitigate any impacts."
Robert Sands, Baha Mar's vice-president of external and government affairs, said the hotel industry was always concerned over any impediments to air travel.
"We have not had any indication of any impact today as a result of this," he said. "We are advising guests to travel to the airport in sufficient time to be facilitated for travel, but we have not had any indication at this point in time that it has been impacting us.
"We, as an industry, would always be concerned when there are impediments that reduce the ability of individuals to travel to and from any destination. We hope that this situation could be corrected in the shortest possible time.
"The reality is this is not specific; it's everywhere, so it become a part of our normal way of travelling. People, I don't think, will cancel business or vacations because of this; they just will make adjustments," said Mr Sands.