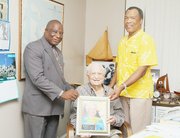 By BRENT STUBBS
Senior Sports Reporter
bstubbs@tribunemedia.net
At 95 years of age, Sir Durward "Sea Wolf" Knowles has received just about every accolade that he can get.
Yesterday, he received another special one when editor Tyrone Olander and some of the staff of The Sports Magazine presented him with a copy of the April 2013 edition. On the front cover was his photograph with the headline: Sir Durward Knowles - the sub topic read: A Sporting Giant Who Made History. But There's Something We Can Learn From Him!
Olander said he was inspired to write the article, which deviated from the norm of highlighting his exploits as a legendary skipper in the Star Class sailing competition, but rather depicted the other side of Knowles that he and so many other Bahamians have come to love - his personality as a human being.
Although their paths first crossed when he was a journalist at The Tribune, Olander said he clearly remembers how he had approached Knowles for some financial assistance. "He barely looked at me and asked how much I needed. I was completely at a loss for words."
As witty as ever, Knowles said he heard that they were going to do the magazine in his honour, but he was waiting to see what it would look like. He said he liked what he saw, but he has to read the story to make sure that everything written about him was true.
Olander said the magazine also intends to host a year-ending awards banquet to honour the most outstanding Bahamian athletes. He said the magazine intends to name all of the top categories in honour of Knowles.
When he heard that, the first thing Knowles asked was: "Are you sure the Bahamian people will want that?"
Olander got the approval from all those present, including this reporter, when he assured Knowles that there wouldn't be any Bahamian who objected.
Bahamas Olympic Committee president Wellington Miller, who attended the presentation, said he is delighted to know Knowles as they both served as vice president on the BOC for many years.
"Sir Durward, you deserve every accolade you get and more," Miller said. "I'm just glad that they are continuing to recognise you for your achievement."
In 1956, Knowles teamed up with the late Sloane Farrington in Melbourne, Australia, to win the Olympic bronze medal.
In 1964 in Tokyo, Japan, he teamed up with the late Cecil Cooke to win the Olympic gold. Knowles sailed in a record eight Olympics, the last in Korea in 1988 at the age of 70. He is the second oldest Olympic gold medallist still alive. The other is said to be 100 years old and Knowles jokingly said he intends to "catch him up."