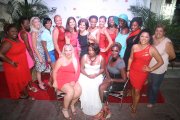 By ALESHA CADET
Tribune Features Reporter
acadet@tribunemedia.net
THE STORIES shared made people laugh and sit in awe emotionally touched. That was the experience for many who attended the Bahamas Artist Movement (BAM) presentation of Eve Ensler's theatrical production "Vagina Monologues". The sold out benefit performance of the award-winning play at the British Colonial Hilton last Friday aided the Bahamas Crisis Centre.
Hailed by the New York Times as "funny and poignant" and by the Daily News as "intelligent and courageous", The Vagina Monologues, which was first performed off-Broadway by Ms Ensler, dives into "the mystery, humour, pain, power, wisdom, outrage and excitement buried in a woman's experience".
This is the first time in the history of the movement that the Bahamas has participated. Artistic Director, V-Day Coordinator and BAM Founder Rowena Poitier said she was very pleased in regards to the number of people who came out to support the show. After the show, audiences members suggested an encore performance.
"These women who are not actresses, came out and they poured their hearts out on the stage. They shared other women's stories and that is what's so powerful about this. It is nothing really to judge, it is just people's experiences," said Ms Poitier.
Ms Poitier said: "These volunteers took a stand against violence and honoured the mothers, daughters, lovers and nurturers of our world. I think the audience was very receptive so I am very happy about that. I am so happy that we raised money and awareness for the Bahamas Crisis Centre because that is the whole point of this, to do good," said Ms Poitier.
Bahamian Entertainer Leah Eneas said she was overwhelmed with the response to the show.
"The preparation for the show became a little emotional for a lot of people, including myself, because there are a lot of wonderful beautiful women out there. And in rehearsal, we were not just rehearing the lines, we were literally sitting up there holding hands, giving hugs, encouraging each other and making sure that everyone was okay. So it became like a sisterhood. As far as I'm concerned with my involvement, it has been like a sisterhood to me," said Ms Eneas.
Her monologue was entitled "My Angry Vagina", which received loud laughs and applause from the attentive crowd.
She said she has always heard about the show and the first time seeing it was last week when she was part of the Bahamas' inaugural production.
Ms Poitier said in the middle of the show, some people left due to the emotional stories being told, but the stories were all real life issues, she said.
"There were a lot of things that were confusing emotionally, because you see where people were telling stories about being abused, so it puts you as an audience member in a very awkward position. But that is the reality and that is what we need to do, start encouraging those conversations. So the more we dialogue about that and acknowledge that it exists and it does happen, I think the sooner we can begin healing ourselves," said Ms Poitier.
"When I realised it was V-Day season, and the Crisis Centre needed money, I said I needed to do something. V-Day is a movement that started 15 years ago by Eve Ensler and she began the movement with the monologues. She travelled the world and did interviews with women about their experiences, whether it was empowerment or rape. She worked with sex workers, prison inmates and women with all ethnicities. From there that sparked different events," said Ms Poitier.
Ms Poitier said V-Day season happens between February and the end of April every year around the world, including some of the most remote parts of Africa where they are not actually allowed to celebrate it.