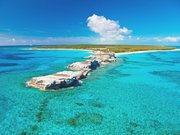 By NATARIO McKENZIE
Tribune Business Reporter
nmckenzie@tribunemedia.net
Eleuthera residents are opposing the $20 million sale of the 700-acre Lighthouse Point peninsula on the island's southern tip, the the head of a non-profit organisation yesterday calling for an end to the cycle of "land speculation".
Shaun Ingraham, director of One Eleuther,a told Tribune Business that while the organisation was not opposed to commercial developments on the island, they needed to be 'sustainable' and not come at the detriment of the island's terrestrial and marine resources.
One Eleuthera is at the helm of the battle against any large-scale development at Lighthouse Point, widely considered to be one of the most important, unexplored archaeological and scientific sites in the Bahamas.
The 700-acre property is is currently being advertised for sale by Bahamas Realty, and is listed on the Bahamas Real Estate Association's (BREA) website.
The area is being marketed as an "ideal setting for a grand vision, with exceptional beachfront acreage, coloruful coral reefs and a breathtaking landscape".
The realtor has also dubbed it as "the perfect locale for a vacation home, hotel and marina development".
One Eleuthera has already garnered several hundred signatures on a petition opposing such a proposed development at Lighthouse Point, while another non- profit, The Eleuthera Land Conservancy (ELC), is attempting to raise money to purchase the site.
Mr Ingraham said: "We are basically asking the Government to dialogue with us on these types of things before they just do approvals on massive developments.
"We are not against development; we just want good, sustainable developments that don't require dredging through reefs and wetlands. Lighthouse Point is a hyper-saline lake which is one of the only ones left in the world. It needs to be protected. Once you lose these ecological areas you can't get them back."
Mr Ingraham, who is set to speak at the inaugural Eleuthera Business Outlook this Thursday, called for an end to the cycle of land speculation in the Bahamas.
"A lot of developers know they will never be able to do what they say they will do," he added. "They just speculate, sell the land and get out of here.
"They don't care if the project makes it or not, while we just keep letting them do it. They can pack up and go to Mexico, Florida or wherever else.
"A lot of countries are becoming astute to this, but were still allowing it in the Bahamas. Generations of Bahamians are not going to experience the natural habitats," Mr Ingraham added.
"We've got another issue at the boiling hole in Rock Sound, where it looks like the Ministry of Housing has decided to put low cost housing on a very sensitive cave system."
Mr Ingraham said One Eleuthera is looking to develop a land use plan for the island, and has outlined three sustainable development models for Lighthouse Point, which include a compact waterfront development model, a low impact development model and a preservation model.
"We're trying to do a land use plan on Eleuthera. Right now we have a number of failed resorts on this island that aren't moving and aren't making it. Why would you want to disturb another site? It's land speculation," said Mr Ingraham.