By KHRISNA VIRGIL
Tribune Staff Reporter
kvirgil@tribunemedia.net
THE Philippine Embassy yesterday appealed to the Bahamas government to allow its citizens to keep their jobs as the Christie administration's new and strict Immigration policies continue to cause concern among businesses.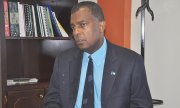 According to several international news agencies, Philippine officials out of their Washington based office raised the matter to the Department of Immigration during a recent visit to the capital. 
It has been said that around 1,000 Filipinos are employed in the country in various capacities including housekeepers, cooks, maids and medical staff.
The government, last month, began dialogue on Immigration matters which caused a stir among residents and private sector business owners after Foreign Affairs Minister Fred Mitchell said the government had planned to stop issuing work permits for positions that Bahamians could fill.
However, when Mr Mitchell spoke to reporters at the House of Assembly on the matter he said the government's policy is rational and there will be no apologies for ensuring that Bahamians receive gainful employment. He added that Immigration officials did not think that the Filipino's issues were at a level of concern. Mr Mitchell said they were just seeking clarification.
He said: "There is no apology that has to be made for a policy of Bahamians first. With every policy there is for work permits the general policy still applies whether at the labouring level or the management level. Bahamians first and that means this. No work permit is going to be issued unless a Bahamian is not available for that job.  
"They met with the Permanent Secretary when they were here and I am told that that was not a very large portion of the meeting. They had a whole number of other issues. This is a country of rules and laws. It is not an arbitrary or whimsical or capricious country.  Nor is it arbitrary or whimsical in the applications of its policies.   
"We know that Bahamian citizens have rights for their existing employees and we operate within the rule of law."
Mr Mitchell believes that the government's commitment to training Bahamians will ensure that they are ready to handle whichever vacancies there are especially in Grand Bahama. He also urged BahaMar officials to take a page out of Atlantis' book in giving Bahamians the tools they need to ably do jobs. 
"The Ministry of Grand Bahama and Ministry of Labour, working with immigration has said to these employers you've got to have a training component. You must. Because we cannot as a matter of social policy allow the situation to continue with unemployment being 30 per cent with people under age 25.
"And to transfer that to theatre here in Nassau. We've said to BahaMar to take a page out of Atlantis' book and follow what they did which is to set up a training programme."