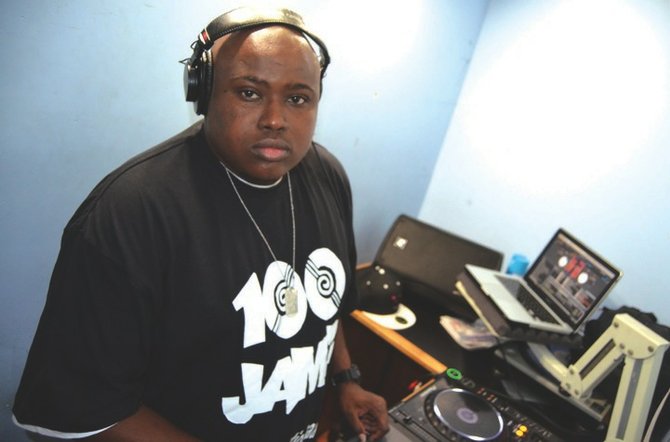 By LESH
Tribune Features Reporter
acadet@tribunemedia.net
WITH MUCH respect to his country, DJ Xtra Large said he rates every Bahamian deejay, simply because each deejay is unique.
"242 deejays are the best deejays in the world. Reason being is because of our close proximity to other places in the world. You have deejays in the United States that can play Hip Hop and Reggae but they can't play Soca, and they can't mix it properly.
Whereas Bahamian deejays can play every type of music and mix it properly," the 100 Jamz deejay told In Ya Ear.
Xtra Large said it is important for young deejays not to be lazy and complacent. Once you get your music homework done and research your musical foundation, only then will you know how far you can go, he said.
Starting at the age of fourteen, Xtra Large said: "I'm a man that plays music and over the years God blessed me solid when it comes to music. I just keep on perfecting my art and keep on moving forward to doing some big things. That is about it and I'm just humble that I am in a position to do these things when it comes to the music."
Speaking about his background, Xtra Large said: "I started off playing around with records and every time I saw someone with a sound system, I would go around the set and just try to see what I could learn. I would hang around dudes who had sound systems like Barry Da Pusha, The Mighty Pencil, One Dwight and those kind of people."
In the entertainment world, Xtra Large said if you are not aware of your foundation, you are not going to know where you are going, so it is important to pay homage to the entertainers that knocked down the doors.
"The elders, they come first, so you can't leave no one out with respect to the music," he said.
Before deciding on his current deejay name, Xtra Large was known as Fabulous as an 18 year old, because of his mixing technique. "I used to mix so fast and so clean."
Xtra Large said he never imagined his life as it is today.
"My mother didn't even want me to play music and everybody would tell me not to even bother with music. I had a mentor who was a senior deejay when I was in school, he also told me that music was not anything for me to get in to, but I stuck with it. I just loved the music and I was playing it for the love," said Xtra Large.
Since starting in the field, Xtra Large said he had the chance to play with Selector Ty at the MTV Awards back in 2004. He said he also played in Florida a number of times.
"I just came back from Fort Lauderdale for an event and I'm off to Orlando for another one. I am married and I have kids, so I have to make sure 'lil mama' is straight. But when I say Xtra Large International, it's about playing all over the place. I've been getting bookings and we have a lot of Bahamians that live in the United States that do not get to come home often so a lot of colleges and universities abroad contact me in reference to doing events," said Xtra Large.
Before working at 100 Jamz, Xtra Large said his first opportunity going on air was in 1997 at 104.5. After getting a call from Randy C at 100 Jamz at the time, he said he was asked to do the station's Friday morning shows.
"I came through and I represented for a whole year every Friday from 7:30 to 8am and 9:30 to 10:00am. And then I was offered more shifts and four years later, I'm right here," he said.
His current session at 100 Jamz, Strictly Culture, on Sundays 10 pm to 1 am, has gained a huge following.
"My personal love is for old school reggae and culture music, with a positive message behind it. Strictly Culture is more like my baby so I'm going to take it and run with it because it is a one of a kind show and you have no other shows on the radio like it. And then you only get it once a week so people be wanting it every Sunday. I never looked for it to get as big as it is because I just love music. But when they gave me my show and say run with it, that is what I did," said Xtra Large.