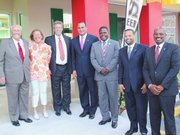 The Bahamian Brewery and Beverage Company has extended its New Providence distribution footprint through the opening of its $1.6 million warehouse, retail and office complex on Nassau Street.

Addressing the opening ceremony for a facility that employs 20 Bahamians, Michael Halkitis, minister of state for finance, praised the family-owned business established by Jimmy Sands.
He recalled that in 2007, Freeport welcomed the company's 60,000 square foot brewery on Queen's Highway, employing 75 Bahamians .
Mr Halkitis said: "The Sands family business is an excellent example for all Bahamians as to the possibilities that exist today for local investment. I applaud their hard work and focus, and hope their progress and ongoing success is an incentive for other Bahamians."

With his father, wife and four children beside him, (two of whom are already working in the business), Mr Sands said it was his family and loyal staff "'that makes the business tick".

"I could not do this without the help and support of the people who work with me in this business, several of them over many years – it's what makes it tick!" said the chief executive. "I am very blessed that I have solid, loyal and committed Bahamian staff."

Mr Sands said his father, Everette Sands, passed on the liquor and beverage industry legacy that the family was proud to advance with the Freeport-based brewery, an investment to-date of $18 million, and the creation of the Sands Beer and other liquor and beverage lines.
"We also now have seven Jimmy's Wines & Spirits stores in Nassau, Freeport and Eleuthera, all owned and operated independently by Bahamians, and more to come," Mr Sands said.

He added that sales were increasing across the board, driven by brands that each hold a different customer appeal.

"Our on-tap draft beer has added another dimension to the Sands beer line and the Strong Back Stout, High Rock Lager and Bush Crack speciality beer are immensely popular," Mr Sands added.
"We expect the same success with our high energy malt drink, Triple B."
Government guests included Dr Daniel Johnson, minister of sports and culture; Khaalis Rolle, minister of state for investments; Hubert Minnis, MP and Leader of the Opposition; and Dr. Andre Rollins, MP for Fort Charlotte.