By DANA SMITH
Tribune Staff Reporter
dsmith@tribunemedia.net
BAHAMIANS could see as high as a 25 per cent reduction in their electricity bill by the end of the year if new plans by the Bahamas Electricity Corporation come into play, the company's chairman announced yesterday.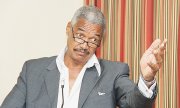 Addressing the Bahamas Society of Engineers at their monthly luncheon, Leslie Miller explained as much as 10 per cent of that reduction is "on track" to be seen by this summer – with an additional maximum 15 per cent reduction dependent on the corporation securing less expensive fuel.
"We are very hopeful – and I believe it's going to be done between now and July – you should see anywhere from a seven to 10 per cent reduction in your electricity bill," he said. "I believe we are on track to have that done."
The government is committed to doing so and we at BEC are committed to, in fact, seeing that is done."
That savings comes from on-going refurbishments of the corporation's engines – getting them "up to scratch" so they burn less fuel.
"We're working with some people out of this region in trying to get cheaper fuel for BEC. If that takes place between now and December, you should see another 10 to 15 per cent reduction in your electricity bill," the chairman added.
He explained alternate fuel sources range from choosing alternative supply options or new products altogether, such as LNG - Liquefied Natural Gas.
Mr Miller noted the "greatest impediment" BEC faces in reducing costs are the old engines at Clifton Power Station and the amount of money that the Blue Hills Power Station's gas turbines, burn.
"Therefore the board is now in serious discussion with an international conglomerate to try to put in place, three 42-megawatt slow speed diesel engines at Clifton, at a cost of some $285 million," Mr Miller said.
"It generally costs a million dollars for each megawatt, that's only for the engine then of course you have the infrastructural costs. the costs to put those engines in place, the cost to connect those engines, and then you have the transmission and distribution costs to transmit that power from Clifton throughout the length and breath of New Providence – to all the substations, to Paradise Island, etcetera."
Every month the Blue Hills Power Station is run to the detriment of Clifton, it costs consumers $6.2 million per month, Mr Miller explained.
However, the chairman noted replacing the engines at Clifton, won't be a quick fix. Not only would the government have to agree to the plan, but the engines must be "specifically built" which could take more than two years.
"It takes approximately 24 months to have those engines built, have the infrastructures put in place, and have those engines in place to generate electricity – so we're looking at least until the year 2015 that those engines can be in place," he said.
"In the meantime, we're trying to get cheaper fuel (and) we're trying to get those engines up to scratch so that they burn less fuel and thereby whatever cost saving that is generated from what BEC is doing, is going to be passed directly onto the consumer."