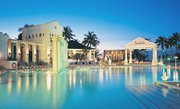 SANDALS Royal Bahamian celebrated its exceptional colleagues Tuesday night in a gala awards ceremony that saw winners praised for their service by resort executives.
One long-serving employee who recently suffered a life-changing illness was also given a special honour by the resort's general manager Patrick Drake.
Carolyn Major who served as Sandals Royal Bahamian's Human Resources Director thanked her colleagues for their support.
Mr Drake said: "If we could take 10 per cent of the spirit of survival from Ms Major we'd all be better."
About 90 employees of the almost 600 who keep the resort operating day-to-day were nominated for either being the best in their department, most engaging, most eco-friendly or most improved. Some individuals were nominated more than once.
Some of the winners were Shavado Newton, who received the "Most Improved Award"; Keniska Henry, who received the "Earth Guard Award"; Tatsianna Chykayeva, who received the "Sandals Foundation Award"; Ruth Davis, who received the "Smile award for Courtesy"; and Kyno Pennerman and Denver Moss, who received the "Hotel Manager's Award" and ""General Manager's Award" respectively.
Ms Davis told the media after she received her award that her colleagues branded her "smiley" and that she often gets in trouble for smiling too much.
Mr Drake said these individuals epitomise Sandals' "service standard" and are the reason guests want to return to the resort time and again.
"These awards can never say enough thank you," he said.
He added that Sandals is helping to develop the next generation of workers through its training and service standards.
And he said he hopes that with the advent of Baha Mar in 2014, the Cable Beach strip can be improved and developed into something beautiful and beneficial for all the properties along its length.
According to Mr Drake, resort occupancies have been running at near 82 per cent, with groups and weddings keeping rooms full.
And he added that the Sandals Foundation, Sandals Resort International's philanthropic arm, has been busy with several community outreach projects across New Providence.