By DANA SMITH
Tribune Staff Reporter
dsmith@tribunemedia.net
WITH statistics showing that just under 50 women have died at men's hands over five years, National Security Minister Bernard Nottage said he believes Bahamian society is not dealing with the issue of violence against women effectively enough.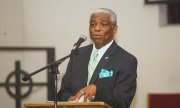 He was giving remarks at "Because We Have Mothers, Sisters and Daughters - a Forum on Men Stopping Violence" organised by the Bureau of Women's Affairs, the Ministry of Social Services in partnership with the US Embassy, the Crisis Centre and the Caribbean Male Action Network (CariMAN) Bahamas.
"Too many of our women have died in the most horrendous of ways. That's the kind of anger that is unimaginable to me," Dr Nottage said to an audience at the Paul Farquharson Centre at Police Headquarters.
"When you got an angry man, his pulse goes up, his IQ goes down... He takes a drink and perhaps takes a smoke. It's a disaster waiting to happen."
Dr Nottage said the truth of the matter is "we are to a very large extent a dysfunctional society" and called on the country to "deal with the issue" that is violence.
"We are not as a society dealing with this matter effectively, in my opinion," he said.
Social Services Minister Melanie Griffin also gave remarks at the forum where she spoke on the importance of educating both genders on violence against women.
"The experts on this subject all state that any effort to successfully eliminate violence against women must involve men as partners. My ministry believes and supports this belief," she said.
"When you talk about keeping communities safe for women. Who are you talking about? Your mothers, your daughters, your sisters. Violence against women is a global, vexing problem which will require all of us - government, civil society and the private sector - to partner if we intend to make a significant dent in it."
Mrs Griffin said her ministry is "in the process" of establishing a task force that will review gender-based violence in an effort to prevent it.
In addition, she said, a project that has already been implemented internationally will come into play early next month which will focus on reducing violence against women and engaging men as advocates in ending violence against women.
Yesterday's forum featured four experts who offered their opinion on the causes behind violence against women - as well as violence in general - and what can be done to stop it.
Pastor Barrington Brennen of the Centreville Seventh Day Adventist Church gave a presentation on masculinity where he explained that masculinity and femininity shouldn't be in competition. "None are superior," he said.
He explained further how the common notion that men must always "be in control" reinforces that competition, but men and women should complement each other, instead.
Darron Turnquest, Director at the Ministry of Youth, spoke about how young men are influenced by older men around them and said society had created a "comfortable attitude" in how women are treated and viewed - which can contribute to violence against women.
Addressing young men in the audience he told them: "What you disrespect women, you disrespect yourself."
Ulester Douglas, the director of the United States programme, Men Stopping Violence, said that violence against women is a global problem which is exacerbating because "most men are still getting away with it."
He said there should be consequences to tell men that "it's not acceptable" and society should advocate a "culture of 'no'" and speak out against incidents of violence or incidents that persons feel may lead to violence.
Finally, Robin Roberts, a urologist and chairman of CariMAN Bahamas, told of the number of people who come into Princess Margaret Hospital with assault injuries - more than 3,000 for every 100,000 patients.
Commenting further on the violence in the country, he said that PMH sees at least one or two persons who have either being stabbed or shot every day.
Although 90 per cent of those shooting or stabbing victims are men, he added: "We are seeing women who are coming in who have injured or assaulted in worse ways. Women who are being choked, women have acid thrown in their faces, women who are raped, murdered - even our six-year-old little daughters."
He added: "I saw one interesting statistic that Dr Patterson (Sandra Dean-Patterson of the Bahamas Crisis Centre) supplied me with yesterday. From 2005 to 2010, I noticed that she said there were 45 cases in which young women would die at the hands of men."
Dr Roberts called on society to "redesign what we want a real man to be" and "make the commitment" and "move forward."