By CHESTER ROBARDS
Tribune Senior Reporter
crobards@tribunemedia.net
'OPEN warfare' at Clifton is a major concern of Bahamas Against Crime Executive Director Rev CB Moss, he said in a press statement yesterday.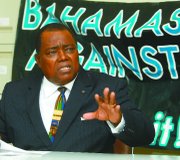 Rev Moss expressed his displeasure about an incident involving environmental activist Fred Smith and former Progressive Liberal Party MP Keod Smith, that ended in the destruction of a vehicle's windscreen.
"A few days ago the media reported that Fred Smith, a member of the Protect Clifton Bay Coalition, was at Jaws Beach on the Clifton National Heritage Park when he was allegedly attacked by several men," the statement said.
The statement refers to Keod Smith as 'a spokesperson for Peter Nygard, the Lyford Cay resident who is locked in a public feud with Louis Bacon his neighbour.'
It goes on: "According to media reports Fred Smith was photographing Clifton Bay and the surrounding area when Keod Smith informed him that he had no rights being there.
The attack followed when Fred Smith's car was damaged, said the statement.
"Although the victim was not seriously injured, it was primarily because he did not fight back, but tried to escape."
As a result of this incident, Rev Moss said he was concerned that the dispute between Mr Nygard and Mr Bacon, and both Mr Smiths could "explode into open warfare".
Fred Smith told the media yesterday that he was not in a fight with Keod Smith. "What I'm in a fight about now is protecting our environment," he said.
Mr Moss called the situation tragic, saying the disputes have "little" to do with protecting Clifton.
"Bahamas Against Crime is therefore calling upon the Prime Minister to immediately
intervene in this matter of national importance before more damage is done," the statement said.