By BRENT STUBBS
Senior Sports Reporter
bstubbs@tribunemedia.net
THE Bahamas Association of Athletic Associations' mission to have all four relay teams qualified for the 14th IAAF World Championships in Russia was almost completed at the Penn Relay Festival over the weekend.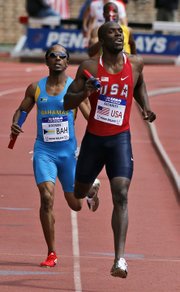 Three of the teams, including the women's 4 x 400 relay, ran under the qualifying times Saturday in the special segment of the meet dubbed the USA versus the World that served as a prelude to the World Championship in Moscow August 10-18.
Although they are still short of one, it will be the first time that the Bahamas will get a chance to have at least three teams competing in the biggest global meet in the world. If relay coordinator Henry Rolle has his way, the Bahamas could be heading to Moscow with an historic contingent with all four relay teams competing.
"We're about 75 per cent complete," said Henry Rolle, who has been responsible for coordinating the teams at the festival. "The men's 4 x 1 team is a young team. They're all juniors. We have some work to do with them, but the aim is to get all four teams qualified and we're not too far off from achieving that goal."
The men's 4 x 1 team of Shane Jones, Antillio Bastian, Teray Smith and Stephen Newbold was the only team to fall short of their mark after running 39.49 seconds for sixth place. The qualifying time for the Worlds is 39.20.
"This is a team of all young guys and I was really upbeat with them.They were poised, they were excited and they executed," Rolle said. "One of the things that really didn't work in our favour was the fact that because we were not a ranked team coming in, we were given the inside lane and that was very hard for those guys. But to run 39 from that lane shows that this team can be very positive, especially if we can get it stronger with the other young men who are running very fast like Derrick Atkins, Shavar Hart and Trevano McPhee. Stephen Newbold ran very well in both relays and he's committed to turning things around from what he just went through, so I'm confident that they will be able to qualify."
The American red team of Mike Rodgers, Justin Gatlin, Doc Patton, Ryan Bailey won in 38.26, while the Jamaican team of Nesta Carter, Dexter Lee, Rasheed Dwyer and Jason Young ran 38.65 for second.
The American blue team of Jeff Demps, Wallace Spearmon, Cordero Gray and Ivory Williams was third in 38.94. Great Britain's team of James Ellington, Harry Aikines Aryeetey, Danny Talbot, Andy Robertson was fourth in 38.99 and the Canadian team of Dontae Richards-Kwok, Justyn Warner, Jared Connaughton and TJ Lawrence was fifth in 39.48.
Rolle thanked Fritz Grant for helping to put the men's 4 x 1 team together. He also credited George Cleare for assisting with the women's team.
For the first time, the women's 4 x 400 relay team has booked their trip to the championships. The team of Christine Amertil (52.7), Amara Jones (52.9), Cottrell Martin (53.4) and Lanece Clarke (53.9) was also sixth in 3:20.90. They went under the Worlds qualifying time of 3:33.00.
The USA red team of Jessica Beard (51.5), Natasha Hastings (49.9), Dee Dee Trotter (51.0) and Francena McCorory (50.3) won in 3:22.66. Great Britain, running Emily Child (51.6), Shana Cox (50.4), Christine Ohuruogu (50.4) and Perri Shakes-Drayton (50.3) was second in 3:22.66. The quartet of Sherika Williams (51.9), Novlene Williams Mills (50.0), Christine Day (51.0) and Kaliese Spencer (51.2) from Jamaica was third in 3:24.11.
In 3:26.26 the American blue team of Ebonie Floyd (52.9), Mary Wineberg (51.5), Joanna Atkins (50.3) and Keshia Baker (51.6) were fourth and Adebukola Abogunloko (52.4), Ajoke Odumosu (52.8), Regina George (49.5) and Idara Otu (54.0) from Nigeria were fifth in 3:28.65.
"Now that the women's 4 x 4 has qualified, the trials has become important. We have to construct after the trials because everybody will have a chance to make the relay team, based on their finish," Rolle said.
"It's a situation where those who have ran to help the team qualify will have to keep themselves healthy and running well in order to qualify for the team because it's an open gate where all of the athletes who run well at the trials will be able to qualify for the team."
In a rematch of last year's Olympic Games in London, England, the Bahamian gold medal team minus Demetrius Pinder ran 3:02.23 for third place in the men's 4 x 400 relay.
The team, comprising of Ramon Miller (in a split of 47.4), Michael Mathieu (45.0), Chris Brown (45.4) and Stephen Newbold (44.4), went under the World's qualifying time of 3:05.00.
Avenging their loss in London for the first time in 70 years at the Olympics, the American red team of Torrin Lawrence (45.6), Manteo Mitchell (44.8), Bershawn Jackson (45.7) and Tony McQuay (44.8) won in 3:00.91. The Jamaican team of Allodin Fothergill (46.2), Riker Hylton (45.6), Leford Green (45.0) and Errol Nolan (44.3) was second in 3:01.15.
"I know everybody expected the men's 4 x 4 to win on Saturday but we have to realise that these guys just started back their training simply because they were accommodating the Bahamian public since winning the gold in London," Rolle said.
"They did so many appearances that their training started so late. So they are just starting to get themselves together and remember Chris Brown made numerous trips to Nassau to put on his Invitational, so they are not up to speed where we want them to be, but we know that they will be ready by the time the World Championship comes around."
The American blue team of Jamaal Torrance (46.7), Calvin Smith (45.1), Joshua Anderson (45.9), Joey Hughes (44.9) was fourth in 3:02.64, while the Trinidad & Tobago's team of Renny Quow (45.8), Jereem Richards (46.4), Machel Cedenio (45.7) and Lalonde Gordon (44.9) was fifth in 3:02.81.
The Caribbean All-Stars, comprising of Bahamians Latoy Williams (45.6) and Wesley Neymour (48.2) on the third and anchor legs, followed in sixth in 3:04.81. The first two legs were run by Dominican Republic's 400 hurdler Felix Sanchez (46.9) and Grenada's Kirani James (44.1), the reigning 400m world champion.
On the women's side, the 4 x 100 relay team of Sheniqua 'Q' Ferguson, Nivea Smith, Carmeisha Cox and Anthonique Strachan ran 43.90 for sixth place as they also went under the Worlds qualifying time of 44.00.
Winning the race was the Jamaican team of Sharone Simpson, Kerron Stewart, Anneisha McLauglin and Shelly-Ann Fraser-Price in 42.42.
The American blue team of Mandy White, Alexandria Anderson, Barbara Pierre, Porscha Lucas got second in 42.65 and their red team, made up of Tianna Bartoletta, Allyson Felix, Bianca Knight and Jeneba Tarmoh trailed in 42.66.
The Nigerian team of Gloria Asumnu, Regina George, Olivia Kizzee and Blessing Okagbare was fourth in 43.52, ahead of the German team of Junol Weit, Yasmin Kwadwo, Tatjuha Pinto and Verena Suilew which followed in 43.68.
Rolle said the women's team performed as expected, having ran the qualifying time, but he expects for them to run even faster as time gets closer to the championships in August. Hopefully, he said they will be able to add the additional pieces needed to get the team into the final.
Also at the meet were a number of athletes, either competing for their high schools or collegiate teams.
In the boys high school 4 x 100 relay, the Queen's College team of Christov Cornish, Ian Kerr, D'Mitry Charlton and Theotis Johnson were 36th in 43.76. The winning time was 41.67 by Munro College from Jamaica.
St Augustine's College Big Red Machine's team of Xavier Coakley, Justin Pinder, Nakita Huggins and Carlos Outten finished 161st in 45.86 out of a total of 262 schools that completed the event.
The Big Red Machine rolled to an eighth place finish in the boys high school 4 x 400 relay in a time of 3:28.15. The team comprised of
Justin Pinder, Xavier Coakley, Nakita Higgins and Kinard Rolle. The winning time was 3:19.83 by the IC Norcom from Portsmouth, Virginia.
In the final of the girls 4 x 100 High School Championship of Americas relay, SAC was seventh in 47.88, but the names of athletes competing were not listed. In the preliminary rounds, the team of Devynne Charlton, Makeya White, Danielle Gibson and Keianna Albury won their heat in 47.28 for the fourth fastest time.
SAC's team of Mesha Newbold, Devynne Charlton, Danielle Gibson and Dreshanae Rolle won the girls 4 x 400 relay in 3:55.80.
Individually, Dencil Pratt of St Augustine's College was fourth in the boys high school javelin with a throw of 61.03m or 200-feet, 2-inches. The winning throw was 62.78m (205-11) from the USA.