By NEIL HARTNELL
Tribune Business Editor
nhartnell@tribunemedia.net
Atlantis's new $6 million sports book will be open "by September 1 this year, its top executive yesterday saying that it would be a question of "how many guests will you lose" if the Bahamas did not reform its casino gaming laws.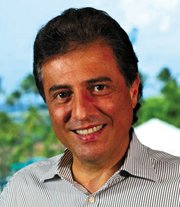 George Markantonis, Brookfield Hospitality's president and managing director, told Tribune Business that apart from increasing casino revenues and related government taxes, the 17 reforms proposed by the industry would "make us more efficient and productive".
Turning to Atlantis's new sports book and horse race wagering facility, which will be operated by Cantor Gaming, Mr Markantonis said its partner would further boost the "credibility" of the Paradise Island resort's gaming offering.
Explaining that the Cantor-run operation would be able to take "much larger bets" than one managed by Atlantis, Mr Markantonis added that the resort had to "maximise the distinct regional advantage" it held because sports/race betting was not permitted in rival US east coast casinos.
"The new sports book will be a significant investment in the region of $6 million to build. We expect it will be operational by September 1," the Atlantis chief told Tribune Business.
"It will certainly modernise our sports book operations. Cantor comes with a very big reputation, and manages the sports books at several outstanding, state-of-the-art mega casinos in Las Vegas.
"Their reputation is phenomenal, and will certainly add to the credibility of our sports book and race operations."
And Mr Markantonis added: "It makes us very much more competitive, as Cantor is able to take much larger bets than we would be able to do on our own, just because they supply and run a diverse gaming product across the US at the same time.
"Major casino customers looking at wagering on sports know the Cantor brand very well, and this makes them very much more trusting in terms of placing bets."
Cantor has already entered the Bahamian casino gaming market, its alliance with Atlantis starting yesterday with the provision of slots, table games and video poker via its mobile gaming platform.
Asked how many more tourists the Bahamian hotel casino industry stood to attract to these shores if the private sector's reforms passed into statute law as is, Mr Markantonis turned the question around.
"It's how many guests will we lose as new casinos open up across the US if we don't keep up with the times," he told Tribune Business.
"We do have a major advantage, in that sports and horse race betting are not allowed outside Las Vegas in the US. We have a distinct regional advantage with that, and have to maximise it."
This means that the Bahamas, including Atlantis, can position itself to compete with Las Vegas for US east coast customers wanting to participate in sports betting, as rival casinos in Florida, Atlantic City and further north do not offer this product.
Speaking to the overall gaming reform initiative, which has been led by the Bahamas Hotel and Tourism Association's (BHTA) gaming committee, Mr Markantonis said the primary objective was to "modernise" the laws and regulations governing the industry.
"I think we have come a long way in that effort," he told Tribune Business. "In the end, the key is gaming taxes, a significant potential revenue source for the nation.
"It has been very encouraging for us to see the open-mindedness of government in ensuring we stay a competitive gaming destination, and we have been working very closely with them in developing these thoughts.
"There's a variety of recommendations. Some of them are not just dollar related; some are just to make us more efficient and more competitive."