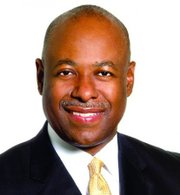 By DANA SMITH
Tribune Staff Reporter
dsmith@tribunemedia.net
AMID protests by Cuban-Americans over allegations of abuse at the nation's detention centre, Tourism Minister Obie Wilchcombe said yesterday, "steps are being taken" by the government in an effort to "get the matter behind us".
And, addressing the meeting with US Congressman Joe Garcia over the protests and Cuban detainees currently held in the Bahamas, Mr Wilchombe explained it was about "having an understanding" and "there was no deal being cut."
Mr Wilchcombe also noted there is "no contradiction" between Tourism and Immigration regarding the swirling allegations, as both he and Immigration Minister Fred Mitchell agree the purported abuse "never happened."
The Tourism Minister explained he looks at the protests in the sense that it could affect the Bahamas' relationship with the Florida community and the fact that "many Bahamians" travel to the United States, spending more than $1 billion there, annually.
"But also, we know they come and they holiday here. They come and spend a lot of time in the islands... So we want to make sure we are getting the right message across," Mr Wilchcombe said.
"The first thing is, that's not the Bahamian spirit that we've been hearing about – the nature of the protests, and so we want to get that behind us and the quicker that we can do that, the better for us.
"Then of course, you have to think about the long-range effect – the fact that information, images, messages travel around the world. You don't want that message around the world that the Bahamas would treat human beings, inhumanely. That's not what we want to do, because that's not who we are. So we want to fix that and that's what I'm aiming to do, fix it as quickly as possible."
As for what is being done to address the protests, Mr Wilchcombe indicated Mr Mitchell is leading the task.
"Some steps are being taken," he said. "I'm not at liberty to speak about them because I'm not the minister responsible. My colleague, the honourable Fred Mitchell, is dealing with it. I know that they're working intensively to get the matter behind us."
He said his involvement regarding the protests is not in contradiction with Mr Mitchell's – who has steadily questioned the validity of the protesters' claims and was described in the media, yesterday, as believing the protests to be a smear campaign.
"It could be a smear campaign, but a smear campaign has impact and what I'm saying is, we want to get rid of that smear campaign," Mr Wilchcombe said.
"The truth is, it never happened; and because it never happened, those who claim that it did means that you're perpetuating what amounts to a lie. So yes, it's a smear in that regard but that smear can have tremendous reach and I want to make sure that smear is stopped. So we're not in contradiction at all."
He also took note of a meeting he had with Mr Garcia, in the wake of the protests.
A subsequent letter sent to Mr Garcia's office on July 26 signed by Bahamian Deputy Consul General Sandra Carey reportedly agreed that "detainees placed from maximum security to the general population will be addressed" and "detainees will be re-interviewed."
Mr Wilchcombe explained the main concern of that meeting with Mr Garcia was to ensure that the US understands the Bahamas does everything "correctly" regarding detainees.
"They wanted to make sure we follow conventions – the point is, we do," he said. "We speak with the United Nations Human Rights Commission, the individuals – whoever is detained at the detention centre or apprehended ≠ are interviewed.
"The other concern was individuals who were at Her Majesty's Prison, could they be sent back to the Detention Centre. Well, they were sent there for their own safety because there were some issues that had originated at the Detention Centre and so, all the things they were asking us to do – we are in fact doing, and so it was about having an understanding.
"That is why I want to point out, there was no deal being cut. There was an understanding dialogue. We were ensuring that they understand what we do, now – and we do everything correctly, now.
"The Bahamas does not want to keep any of those who are detained. Our job is to, as soon as the interviews are completed, they are returned to their country, but we've faced situations where countries have not taken their citizens back quickly enough. And so, that creates a problem... So we're saying that in this case, we have individuals who are here and we have been working with the American government, working with the Cuban government, all intending to ensure that the detainees are returned to their country."
Yesterday, Mr Mitchell told The Tribune he had "no comment" on the Deputy Consul General's letter and added: "A statement was issued by me on Monday, and that is the position of the government."