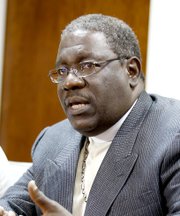 By DANA SMITH
Tribune Staff Reporter
dsmith@tribunemedia.net
BISHOP Simeon Hall says he feels "violated" after thieves caused thousands of dollars worth of damage to New Covenant Baptist Church – stealing cash, computers, and laying waste to several rooms.
The destruction was discovered yesterday morning in the church's adjacent educational building where six computers were taken, as well as a safe holding $2,500 cash, according to Bishop Hall. Rooms were ransacked, he said, and seven doors left broken, in addition to three windows.
He believes the amount of damage done to the church – including the stolen items and damage to the building, itself – could total upwards to $10,000 to replace and repair.
Although the church does have an alarm system, the alleged thief or thieves somehow managed to escape with loot; Bishop Hall believes the criminals may have gained entrance via a downstairs window.
"This is about the tenth time now we've had break-ins. It leaves you feeling violated," Bishop Hall said. "This church is not a regular church, we are a community-oriented church. You can see from all these offices, people work here; and every day, people come here and we minister to them.
"So you begin to wonder – are these (the alleged thieves) the people we're helping? Or is it worth it? Now, we're going to continue helping, but this puts a major dent in our work and our social outreach programmes."
Those programmes include counselling, children's classes, and free meals, Bishop Hall said, explaining that this latest incident has left him feeling disheartened.
"We get involved socially and we try to help people. On a daily basis, dozens of people come here looking for support, looking for job references, you name it – counselling, conflict resolution," he said.
"How do you minister in a community where people would do this kind of damage? It doesn't make you feel good."
However, he said, the church will "lift (their) spirits" and continue to "move forward" despite the break-in. "This will not stop us," Bishop Hall declared.
In view of this incident and the several others in the past, the former Bahamas Christian Council president called for a "cohesive front" against criminality – noting criminals usually collaborate in their activities.
"I can understand in this culture of criminality where one man says I'm going to steal something but how do you get two or three persons? How do you sell your criminal ideas to two or three persons?" Bishop Hall questioned.
"Several persons were here last night, obviously; To get in, to lift all that merchandise takes some sort of a collaborative effort. So what does that say about us? Not only do you find an individual with a criminal mind, but he could get his friends.
"I sometimes wish the church was more cohesive in its fight against crime. As thieves could collaborate in their criminal activity, I think the church – we shouldn't have this group over here and the next group over there – we need a cohesive front on this criminal thing so as to rid ourselves of this kind of behaviour."
New Covenant Baptist Church, located on the East West Highway, sees as many as 400 persons every Sunday under the leadership of Pastor Trajean Jadorette.