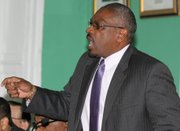 By KHRISNA VIRGIL
Tribune Staff Reporter
kvirgil@tribunemedia.net
FNM Leader Hubert Minnis has called for a select committee to review stem cell legislation before the Bill is passed in the House of Assembly.
Speaking to The Tribune yesterday at his residence Dr Minnis reiterated his concerns that if the stem cell industry is not properly regulated the Bahamas stands to be black listed. He said the Christie administration had appeared to have been blind-sided by special interests to a select group of people to pass the bill. 
His words have been reignited in view of Prime Minister Perry Christie's trip with a delegation this week to the University of Miami (UM). The university has earned a reputation of carrying out a series of FDA approved stem cell clinical studies which are offered free of charge and are said to have advanced stem cell procedures greatly.
Dr Minnis said: "What is even most amazing is this Bill would have been passed weeks ago had it not been for the FNM bringing up certain concerns. Suddenly they are seeking consultation. A visit to UM was never a part of their original plan.
"But the real issue is that the majority of UM's programmes are clinical trials and FDA approved. The Bahamas is talking more about service and treatment, so they must answer the question: What exactly is UM's role? Especially out of the realm of them not being a treatment and service provider.
"They need to take this Bill and put it in a committee stage, a select committee to review the Bill entirely and to ensure that the enforcement agencies and policies are in place."
With that Dr Minnis said the government now needs to make known if the Bahamas will consider offering clinical trials or delve directly into stem cell as a service – which he strongly advises against. He commended the government, however, for realising that the present legislation has deficiencies which need serious attention. 
Dr Minnis further criticised the government for failing to receive the proper certifications but he said they were hoping to gain them by way of association.
The Opposition leader has for weeks accused the government of pushing forward with the stem cell research and therapy Bill in the Bahamas because of alleged promises to Peter Nygard, the millionaire Lyford Cay resident who is a keen backer of stem cell research and says he has financially supported the FNM and the PLP. Former prime minister Hubert Ingraham, who during his administration refused to meet with Mr Nygard, denied that the FNM were ever given any financial support by him.