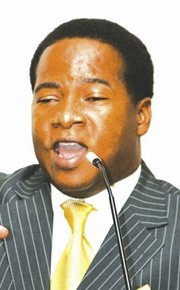 By NEIL HARTNELL
Tribune Business Editor
nhartnell@tribunemedia.net
The Bahamas is making "a huge mistake" in introducing a Value-Added Tax (VAT), a prominent financial services provider arguing that it should instead implement a 2 per cent corporate income tax.
Paul Moss, head of Dominion Management Services, told Tribune Business that VAT was "non-Bahamian" and being imposed on this country by outside forces, such as the International Monetary Fund (IMF).
He instead urged the Government to impose a 'low rate' corporate income tax, starting with international companies doing business in the offshore sector, as the revenue generated would be "tremendous".
Pointing out that the Bahamas should have introduced such a tax when it was 'blacklisted' in 2000 by the G-20, Mr Moss said a corporate income tax would have enabled this nation to negotiate 'double taxation' agreements with that organisation's members.
"We had an opportunity to make a statement to say the Bahamas can no longer be considered a tax haven because of the things we will implement, which would be a flat, low tax rate on companies doing business in the Bahamas," Mr Moss told Tribune Business.
"We want to do these double taxation agreements with these countries, and make the Bahamas a very international and reputable player."
The absence of any income-type tax regime has prevented the Bahamas accessing the 'double taxation agreement' world that Barbados, in particular, has exploited to its benefit.
These agreements allow profits/dividends being repatriated to a foreign parent to be taxed at the lower Barbadian rate, and avoid a second - and higher - rate of taxation when they arrive at their destination country.
Numerous Canadian-owned companies, especially the likes of CIBC FirstCaribbean and Scotiabank, have established their Caribbean regional headquarters in Barbados for this reason.
The Bahamas has remained outside this industry, although its recent Tax Information Exchange Agreement (TIEA) effectively included similar clauses to prevent Canadian-owned companies' profits from being 'double taxed' when they returned to the parent.
Mr Moss said imposing a low, flat rate corporate income tax on companies doing business in the Bahamian economy's international segment would not cost this nation business - and instead might act as a competitive advantage.
"My clients have no reluctance in paying taxes around the world," he told Tribune Business. "They're just concerned about exorbitant tax rates."
He noted that tax rates for the wealthiest, especially in European Union (EU) states such as Italy, were often more than 50 per cent.
Thus moving their assets to the Bahamas remains attractive, even if their companies have to pay a nominal tax rate. Such a scenario also enables high net worth individuals to assert, correctly, that they are not wholly avoiding their tax liabilities.
"I would say that since the Bahamas gets nothing today, begin at 2 per cent," Mr Moss said of a potential corporate income tax rate. "It would be tremendous, and more than we get today.
"I would suggest it is introduced on the international side to get a feel for how it plays out, and then come to the domestic side."
The Government, though, has set its sights on VAT as its tax reform centrepiece from July 1, 2014.
Dismissing the Christie administration's implementation deadline as unachievable, Mr Moss told Tribune Business that countries introducing a VAT had always brought in other forms of taxation - income tax and/or corporate income tax - at the same time.
Barbados and other Caribbean nations have followed this template, but the Bahamas appears to be going a different route by choosing to introduce VAT by itself.
"VAT is a huge mistake," Mr Moss told Tribune Business. "If you check VAT around the world, it has never worked, and any country that has it today uses it in conjunction with income tax. It cannot work without income tax."
An income tax of any sort appears to be 'off the table' as a tax reform option, at least as far as the Government is concerned.
This is likely due to it being a potential election liability, along with concerns over its potential income on the international financial services industry.
"It will be almost impossible to introduce VAT next year; it's not going to happen. It's a joke," Mr Moss told Tribune Business.

"This is something that is not Bahamian. It's being imposed from the outside. Our leaders know how difficult it will be, and impact it will have on our own economy."
Carey Leonard, the Callenders & Co attorney, told a Freeport Rotary Club meeting recently that VAT was being pushed on the Bahamas by a combination of the World Trade Organisation (WTO) and other rules-based trading regimes, plus the likes of the International Monetary Fund (IMF) and the Wall Street credit rating agencies.
Tribune Business understands that a Grand Bahama Chamber of Commerce meeting earlier this week, called to discuss the new taxes being imposed on Freeport, was told that the Government's VAT 'White Paper' was drafted by a foreign consultant recommended to it by the IMF.
Taking up this theme, Mr Moss said: "The Bahamas ought to look at itself and not be imposed on by those who sit abroad.
"The reason those people think they can is because our leaders are lazy, and don't think about how to grow the economy and raise taxes.
"They don't tax those who need to be taxed; the companies. You have companies making millions of dollars in a tax-free environment. It is not only scandalous but irresponsible for our leaders to let it happen."