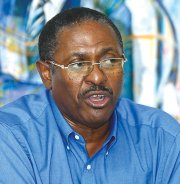 By RASHAD ROLLE
PROGRESSIVE Liberal Party chairman Bradley Roberts claimed opposition leader Dr Hubert Minnis "needs to go back to political school" after committing the biggest political blunder the veteran politician said he has ever seen.
Mr Minnis was named during a House session on Wednesday after refusing to apologise for comments he made about Prime Minister Perry Christie's relationship with Peter Nygard last month.
Speaking to The Tribune, Mr Roberts said: "I've never seen such a big political blunder in all my life. I don't see any benefit for them in this exercise.
"It's a ploy for distraction. This is the same man who approved a stem cell operation in Grand Bahama without regulations or rules yet he's opposing this Bill when it's being done properly.
"Look at how his own member of parliament, the member from Central and South Abaco, remained in the House. You can't say on one hand it's alright a year ago and then say it's wrong now.
"I think he used Nygard as a ploy. I notice that he also mentioned Dr Porter, and I was shocked and surprised by that."
Mr Roberts added: "Try as he may for martyrdom, Dr Minnis simply tried in typical FNM fashion to cowardly hide behind the cover of House privilege to smear and slander the honourable member for Centreville without the provision of proof, even after the speaker gave him more than ample time to produce proof of his claim. Having failed to do so, the speaker of the House in accordance with House rules correctly named and removed Dr Minnis from the House.
"Dr Minnis is confused about the difference between democracy and anarchy as his unseemly behaviour promotes and sows seeds of discord, lawlessness, dishonour, disorder and is a poor example to junior members of the House. He was not standing up for democracy – he was merely standing up for his right to slander a member and get away with it by feigning ignorance or plain naivety.
"His message to young people is to defy authority and stand up to law and order. It was the speaker who upheld the principles of democracy by restoring law and order, decorum and discipline while Dr Minnis sought to abuse our greatest and most important symbol of democracy, the parliament, by disrespecting the rules that govern its proceedings and conventions."
As for Central and South Abaco MP Edison Key, Mr Roberts said he does not believe the member will suffer consequences for his actions on Wednesday.
"Edison Key is a big man. I don't think he gives a damn what they do to him," he said.