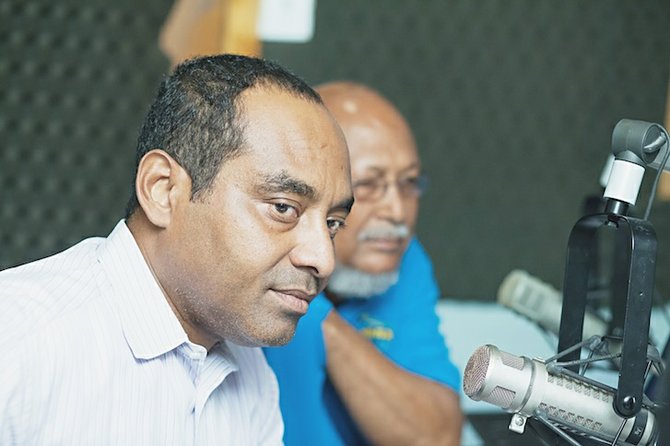 Environmental attorney and consultant Romauld 'Romi' Ferreira took to the airwaves recently to express concern over what he called "out of date" thinking by Prime Minister Perry Christie who, he said, called concerns with the environment "foolishness."
Ferreira and environmental activist Joseph Darville appeared on Ortland Bodie's 'Real Talk Live' show on More 94.9 recently urging Bahamians to sign the Save The Bays petition calling for an Environmental Protection Act, Freedom of Information Act and an end to unregulated development. Mr Ferreira, responded to Prime Minister Christie's recent dismissal of environmental concerns at Clifton Bay as 'foolishness,' labeling those remarks as 'out of touch' and reflective of an outdated mode of thinking in The Bahamas.
"It is very regrettable when the Prime Minister of a country can utter a statement like 'environmental concerns are foolishness'," says Mr. Ferreira. "This is why this is the fight of our generation. We can't expect the politicians of yesteryear who regard environmental issues as foolishness to fully appreciate and be cognizant of the issues. We thank Mr. Christie for all of his contributions - he is the longest serving Member of Parliament and he has done wonders, but clearly he is out of his depth when it comes to the environment."
"Apparently, we're talking foolishness when we say they (developers) are building in the Marine Protected Area that was proposed (in Bimini), we're talking foolishness when we say that they're building the dock on top of the coral reef and we're talking foolishness when we say the law requires an Environmental Impact Assessment."
Ferreira, one of several guests on the popular morning talk show, is a leading environmental attorney and consultant who was selected earlier this year by CARICOM to create model legislation for the energy sector for the Caribbean. "This is all the more reason why it takes persons and organizations to show him and elucidate to him that what he may consider foolishness, there are tens of thousands of people in The Bahamas and around the world that don't think that it is foolishness," he noted. "We're not talking foolishness, they're doing foolishness. I call on every right thinking Bahamian to open their eyes and see what's happening."
Also appearing on the show was fellow director of Save The Bays, Joseph Darville, who echoed the sentiment that the environment must be protected and unregulated development checked. "These developers are flocking to us like bees to honey because of what we have to offer as a nation," said Darville, a retired high school principal and human rights and environmental activist. "What they are foisting on the Bahamian people is totally reprehensible. We are being enslaved by our own people."
Mr Darville pointed out that organizations like Save The Bays are concerned primarily about the sustainable development of the Bahamas and the preservation of natural resources for generations to come - issues that are relevant to all Bahamians. He encouraged concerned members of the public to go online to www.savethebays.org to sign the organization's petition to Prime Minister Christie, which has garnered nearly 5,000 signatures to address vital issues such as the lack of an Environmental Protection Act and the implementation of a Freedom of Information Act.