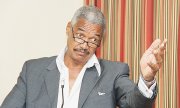 By KHRISNA VIRGIL
Tribune Staff Reporter
kvirgil@tribunemedia.net
GEOFFERY Farquharson, the attorney who represented Kohfe Goodman in the murder trial of 11-year-old Marco Archer, displayed actions that were totally disgraceful during the case, said Tall Pines MP Leslie Miller yesterday.
Making a contribution to an amendment that seeks to add additional judges to assist in the backlog of cases, Mr Miller commended the government for moving the Act to bring justice quickly and to ensure a fair trial.
Mr Miller suggested that Farquharson was among several lawyers in the country who act undesirably to attract more cases for financial gain.
Said Mr Miller: "(In the) Marco Archer situation where I thought that the lawyer who defended (Kohfe Goodman) was a total disgrace against not only the Bar, but against humanity in this country with the foolishness that took place in that trial. 
"You saw the contempt that this man, who has now been found guilty, when on Wednesday week before last he said that he had to leave the court room because he didn't want to hear the lies that people were going to tell on him. (Then) Friday when they found him guilty he spat in the face of one of the jurors and then warned that he was going to kill all of them that was on the jury.
"This is the same guy on the Wednesday before was the nicest guy in the world who couldn't stand to hear people lie on him. (But) when he was found guilty then the real person came out.
"You have a lot of lawyers who showboat. They like to get headlines in the newspaper because they want to attract the other killers to come to them. It is all about money and to get the next client."
The Marco archer trial, as it went on had been marked by several outlandish claims made by Farquharson. At one point he had been told by the presiding judge that he was in contempt of court because of his conduct and choice of words.
Mr Miller further asked the government to consider having a three judge jury panel in place to make the final call in heinous murder cases rather than relying on a jury which have in the past been threatened or assaulted.
But State Legal Affairs Minister Damian Gomez said his suggestion was currently impossible due to constitutional constraints. He said that in order for such a panel to be appointed, Bahamians would have to vote on the change when the referendum to amend the constitution is held in November.