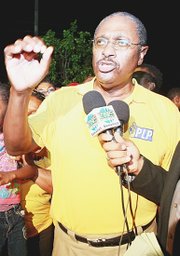 By RASHAD ROLLE
PLP chairman Bradley Roberts and his FNM counterpart Darron Cash are continuing their war of words over opposition leader Hubert Minnis' refusal to apologise for comments about Prime Minister Perry Christie and fashion mogul Peter Nygard.
Following the government's claim that Dr Minnis' behaviour was scandalous, Mr Cash insisted that the FNM's reputation is intact.
He pointed out that no FNM minister ever demitted office because of an international scandal – a reference to Golden Gates MP Shane Gibson's resignation in 2007 amidst controversy over his relationship with the late Anna Nicole Smith.
In response, Mr Roberts said: "Contrary to the propaganda Mr Cash is spewing into the public domain, the FNM legacy cannot possibly be intact when its ministers clearly and deliberately violated both the laws of this country and the standards the FNM established for the conduct of its ministers.
"Mr Cash clearly lives in a parallel universe called La La Land. Does he not know that this same so-called 'legacy' he is bragging about was weighed in the balance, found wanting and his party was ousted from office twice in last 10 years?"
Mr Roberts said the "house of the FNM" which Mr Cash seeks to defend is made of glass, and he and other leaders in his organisation lack the moral authority to point fingers or throw stones.
"He is advised to remove the log from his political eye so he could appear to have some semblance of living in the real world. Try as he may to rewrite history, the political transgressions of the FNM will forever remain before the Bahamian people," Mr Roberts said.
Hitting back, the FNM chairman labelled the PLP the local champions of scandal.
"A debate with chairman of the PLP Bradley Roberts and his party about whose scandals were 'bigger' and 'badder' would be a hands-down blow out. The FNM would not stand a chance.
"None of the mistakes, errors in judgements or alleged missteps by FNM ministers would come close to the global dimensions to which Perry Christie' first government's scandals skyrocketed.
"Anna Nicole Smith went global (Gibson Gibson Gibson — all the way to China), the Korean boat scandals crossed several oceans, and the John Travolta extortion case drew global media spotlight." Mr Cash said these scandals raised serious questions about political improprieties at multiple levels of the government.
"We can add to this list immigration cash for visas scandal, housing scandals and NIB shenanigans.
"When it comes to scandal, the debate we ought to be having is about how to address the current scandals and scandalous arrogance of the present Christie government."