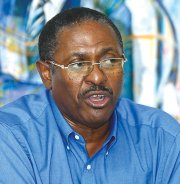 By RASHAD ROLLE
PROGRESSIVE Liberal Party chairman Bradley Roberts hit out at his Free National Movement counterpart Darron Cash after he criticised the government's new energy policy and its handling of Cuban detainees.
Last week, Mr Cash blasted Prime Minister Perry Christie for what he sees as the government's failure to engage in a broad dialogue with a wide range of Bahamians about plans for the Bahamas Electrical Corporation (BEC).
In response, Mr Roberts yesterday said: "In recent times, the chairman of the FNM has once again demonstrated how clueless and confused they are on national issues and the general public must be educated about this.
"In the wake of the energy reform policy articulated by the Bahamas government, the chairman of the FNM and the former chairman of the BEC expressed different views on the national energy policy and the management of BEC. Apparently, Cash does not know what the energy policy of the FNM was or currently is, but never denies himself the opportunity to embarrass himself by commenting on any and every issue he often times has no clue about."
Mr Roberts also defended the government's handling of Cuban detainees, 24 of whom were repatriated to Cuba last week.
He said: "Cash was in the media again this past weekend characterising as 'belligerent' the policy stance of the government regarding the Cuban detainees. In the face of threats and slander of the Bahamas and its leader by Cuban-American protestors, Cash criticised the Bahamas government for treating the case of the Cuban detainees as a law enforcement issue and insisted on the prevalence of the rule of law.
"This principled stance obviously offended Cash and the FNM as one is only left to conclude that by his comments that they wanted to government to abdicate its responsibility to the Bahamian people and acquiesce, bend and capitulate to the desperate threats and slander perpetrated by those who break our laws and to those who support them.
"His comments again demonstrated how clueless and confused he is about the role of government and its responsibility to the protection and general welfare of its people.
"He appeared to be standing up for the protestors and the law-breakers instead of standing up for Bahamians; this is disgraceful and he owes the Bahamian people an apology."