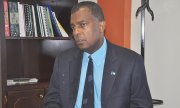 FOREIGN Affairs Minister Fred Mitchell and National Security Minister Dr Bernard Nottage met yesterday with Panama officials to discuss the much-disputed offer of asylum for 19 Cubans who had been detained in Nassau.
While it was claimed by the Cuban-American community that Panama had offered visas to the immigrants – who claimed refugee status – to prevent their repatriation to Cuba, Mr Mitchell said this position was not communicated to the Bahamas government.
However, David McGrath, the Honorary Consul of Panama, said they tried to speak to local officials but got no response for days.
During the interval, many of the Cubans in question were sent back to Cuba.
Following yesterday's meeting with Mr McGrath and special envoy Ambassador Guillermo Cochez, the following statement was released: "The government of the Bahamas received an explanation from the Panamanian government as to why a public announcement was made before it was formally communicated to the Bahamas and has accepted the explanation.
"The discussion centred on the proposal by Panama to receive a number of illegal Cuban migrants currently in legal detention in the Bahamas and adjudged by international criteria to be political refugees.
"At the end of the short meeting, it was agreed that the discussions should continue in the near future."
Mr Mitchell also announced that eight Cuban Nationals were successfully repatriated to Havana, Cuba yesterday morning at 10am.