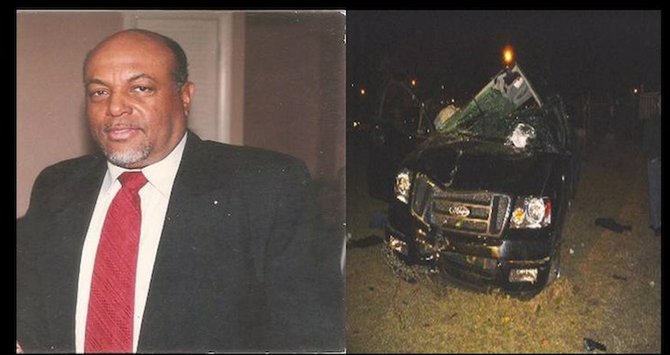 By CARA BETHEL
cbrennen@tribunemedia.net
MORE than 200 people have signed a petition urging the Attorney General's Office to revisit laws which apply to persons who are convicted of harming or killing a person while driving recklessly.
The petition on www.change.org was created by Regina Smith, a young Bahamian, after her father was killed when his car was hit by a young female driver, who did not have a driver's licence or car insurance, on December 19, 2012.
Speaking with The Big T, Ms Smith said: "This matter was finally taken to Traffic Court on April 3 where the young lady was charged with killing in the course of dangerous driving, driving without a driver's licence, and driving without insurance. 
"The owner of the car was charged with allowing his car to be driven by an unlicensed driver who was not insured. They both pleaded guilty and were fined by the magistrate. The young lady's fines totalled $6,000 and she has to undergo counselling."
Regina Smith's family feels that the system failed them.
"There is nothing to assist the family who now have to live without their loved one and have to pick up the pieces. We are not offered counselling or anything. This petition is our way of turning our grief and frustration in a positive direction.
"This is not an instance of looking for revenge, but there are people who causing traffic fatalities in the Bahamas who are not paying long term consequences. Individuals need to receive a penalty that more rightly reflects the weight and consequences of their irresponsibility."
Ms Smith said she has written to Attorney General Allyson Maynard Gibson about her concerns and hopes her office will revisit the law once the petition, which was launched a few weeks ago, reaches its goal of 2500 signatures.
"In my opinion, the young lady should not be allowed to ever apply for a driver's licence and persons who do have licences in these cases should have them at the least revoked or suspended. But that is something that we hope the AG's Office will look into and that they will see fit to change the existing laws."
The petition has 205 signatures to date.
One signatory said: "Until appropriate penalties are put in place and enforced, more and more people will drive without being licensed to do so and without insurance. This is not acceptable when only damage is done to the automobiles of those of us who obey the law and are licensed and insured but we are left with the cost of damages caused to our vehicles by someone else who is not; it is reprehensible when it causes loss of life and the responsible party gets only a slap on the wrist."
Another person said: "These families lose not only life, they also lose hope when nothing is done about the loss that they have suffered. Sure, I feel that mistakes should be forgiven, we do live in a Christian nation. However, our actions cannot be forgotten. A world without justice will never succeed."