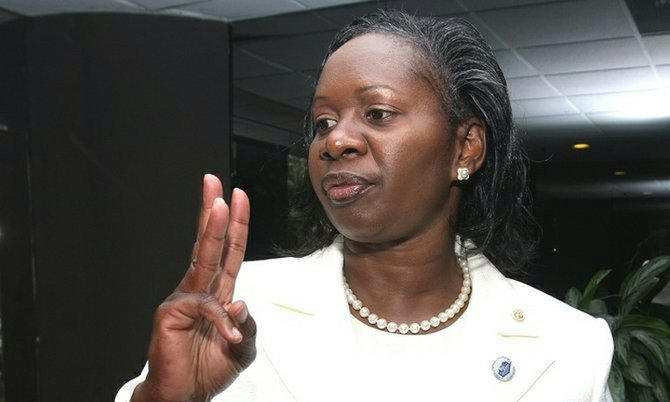 By RASHAD ROLLE
Tribune Staff Reporter
rrolle@tribunemedia.net
TEACHERS in New Providence will decide today if they will go on strike to protest the government's failure to address their concerns, Bahamas Union of Teachers (BUT) President Belinda Wilson said yesterday.
Her statements were the latest in the continuing feud between the teacher's union and the government. They come nearly four weeks after teachers started to "work to rule" and two weeks after more than 200 teachers took their protests about their working conditions to Rawson Square.
Among other issues, teachers are concerned about the millions of dollars allegedly owed to them, attempts to change their medical insurance benefits and premium, breaches of their industrial agreement and the failure to provide some newly posted Family Island teachers with their salaries and rent money.
Yesterday, Ms Wilson said: "Teacher morale is low and there is a lot of victimisation and intimidation happening in the system today.
"Teachers are also very frustrated because union executives are being hindered from coming into the schools to represent them and there are many issues that they are facing that we are unable to address on campus and during the school day."
Ms Wilson declined to predict if teachers will vote in favour of going on strike during their meeting scheduled for BUT headquarters at 4pm today, explaining that as frustrated as they are, they "really love their students."
But in response to Director of Labour Robert Farquharson's statement last week that continued industrial action could land teachers in prison now that their issues are before the Industrial Tribunal, Ms Wilson said Mr Farquharson is "out of order" and emphasized that her union is following proper labour procedure and will not back down.
"We do not appreciate Mr Farquharson threatening the union and we will continue to exercise our rights in accordance with the law," she said. "If we are going on strike we know the procedure to follow. If the teachers say 'yes' to a strike, I would then inform the Department of Labour and someone from the Department of Labour would come to the teachers and take a strike vote and then we would set a date to go on a strike."
Ms Wilson also said that Mr Farquharson made false claims when he said that the Ministry of Education has halted the process of cutting the salaries of teachers who participated in a protest on September 9th because the matter is before the Supreme Court.
In fact, the only matter teachers have before the Supreme Court is whether union executives should be allowed on school campuses during school hours, she said, adding that she has yet to be properly informed about whether teachers who participated in that September 9th strike will not having their salary cut.
She said: "In meetings we had with the Prime Minister and the Minister of Labour, the directive was that there would be no pay cut. However, the Minister of Education later claimed that the process of deducting pay had began. So we then sent a letter to the Prime Minister and the Minister of Labour about this and we got no response from the Prime Minister or the Minister of Labour. The Director of Labour's comments were the first time I ever heard about the pay cut process being suspended. To date I don't have any information that the teacher's salary will not be cut and that is part of our problem. We're hearing information via the media when the union has said let's get around the table in conciliation and meetings. Shouldn't the union have a letter showing that the teachers' salary won't be cut? The Ministry is refusing to meet and is instead using whatever they have to spread their propaganda."
Ms Wilson said that as another sign of a breakdown in communication between the government and her union, she learned for the first time last week Friday that their issues have been referred to the Industrial Tribunal by the Ministry of Labour––days after Mr Farquharson "threatened" them about what could happen if they took industrial action while their issues are before the Tribunal.
She said: "We received the letter on Friday, November 26th, which was days after we protested on Bay Street. The letter just said that the Ministry of Labour has referred the matters between BUT and the government to the Industrial Tribunal. We don't know what matters those are; we have already filed eight trade disputes. We're looking for the Minister of Labour to clarify what issues were referred to the Industrial Tribunal."
"We will continue to assemble and to protest and we will win because the law is on our side," she declared.