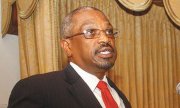 By KHRISNA VIRGIL
Tribune Staff Reporter
kvirgil@tribunemedia.net
OPPOSITION Members of Parliament in New Providence have vowed to install CCTV systems in the crime ridden areas of their constituencies, announced FNM leader Dr Hubert Minnis yesterday.
Dr Minnis said the monitoring equipment will be financed through constituency allowances.
The move comes in direct response to the crime situation that Dr Minnis said is alarming and evident with the armed robbery of acting Prime Minister Philip "Brave" Davis and his family.
He was speaking during a press conference when the party made several suggestions to the government which they believe will assist in curbing the occurrences of crime.
"It is time for this government," Dr Minnis said, "to go back to the drawing board. It is essential that as of today we do not demonstrate in any way—that life will be business as usual.
"(We must) immediately implement a Zero Tolerance approach to crime fighting. There is a pervasive view that across all aspects of our daily lives, we have permitted cultures of either criminality or acceptance of criminality to persist. We must not ignore the small things and address all crime, including blatant white collar criminals, many of whom steal from both state and citizen."
The FNM leader urged the government to tell the truth about the severity of crime statistics which he believes have been "fudged".
"Come clean with respect to crime statistics. Regaining public confidence starts with reestablishing trust, and right now the public does not trust the numbers and neither do we. Regrettably, there is a dominant view that the numbers are being under reported or frankly fudged in order to make some people look good. This type of practice erodes trust and works against the Commissioner and his team."
Dr Minnis added that the FNM intends to table soon a bill to amend the constitution so that "the worst of the worst" is definable with a murderer labelled as such by a judge of the Supreme Court who will be able to make the convict liable for execution.