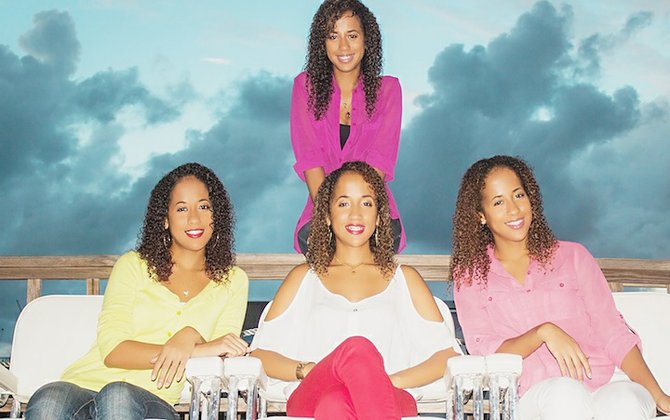 By FARAH

Tribune Features Writer
jgibson@tribunemedia.net
THE girls group Fourever 1 is rallying the support of Bahamians in order to emerge as the winners of Australia's Song of the Year competition.
The group believes they have what it takes to win the competition, but needs the help and support of their local fans. The contest is hosted by Radio Stations in Australia and voting is done by listeners or fans of the artists.
The single up for the song of the year title is "BFF" which was produced by Jazze Pha in Atlanta, Georgia. The video for the song was produced by JL Film Works, a Bahamian company.
Voting has already begun and will last until December 24.
"The girls really need the support of the country and it will mean so much to them if they win the Song of the Year competition," said Craig Pyform, their father and manager.
"They are excited to be in the competition and are hoping to win with the help of their Bahamian fans," he told In Ya Ear.
The identical quadruplets, Jodi, Catherine, Christina and Janelle Pyfrom were also chosen as Australia's Stars of Tomorrow by fan votes earlier this year. Stars of Tomorrow is a Radio Show on 2RDJ-FM and Triple H FM in Sydney, Australia featuring music from teen pop artists.

The group is also pursuing opportunities to achieve global recognition for their musical talents.
The quad sisters exhibited a desire to sing since age 6. Developing their talents, they pursued voice training through various workshops and coaching from Lee Callender, a vocal coach in the Bahamas. They have also received vocal coaching from Jan "Mama Jan" Smith, a vocal coach in Atlanta, Georgia.
In 2009 the girls formed the group and have written, recorded and performed live 16 of their original songs. The young singers have been featured in local and international dailies such as The Miami Herald and The St. Petersburg Times.
Fourever 1 is also seeking to develop their acting talents, and have already met with several industry professionals about their music and acting.
They have also been featured in commercials and newspaper advertisement for Huggies disposal diapers, DC Technology Computer Store, BTC (telephone company) and The Bahamas Humane Society.
To vote, search for "Stars of Tomorrow" on Facebook, like the page and then select the blue and yellow tick, SOT Top 10, at top of page.