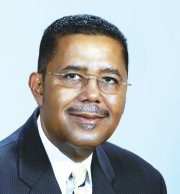 By KHRISNA VIRGIL
Tribune Staff Reporter
kvirgil@tribunemedia.net
THE government is nearing the completion of regulations which are expected to govern how stem cell research and therapy is carried out in the Bahamas, Health Minister Dr Perry Gomez said yesterday.
Dr Gomez told reporters that when the standards are finished, he plans to table them at Parliament in January 2014.
In the meantime, he said, the government is tasked with reviewing four applications which have been submitted reqursting permission to operate stem cell facilities in the country.
Dr Gomez said: "We are bringing the Medical Act back to Parliament to be modified to include people in stem cell medicine and other research out there that's not included. It will be included and that will be the first time that the Medical Act was revised in over 12 years. We have to do that to accommodate those new practices."
The government has had an obliging approach to the development of stem cell research with Prime Minister Perry Christie insisting that its implementation will give the Bahamas the opportunity to become a "world leader" in the field.
He tabled the Stem Cell Bill in April.
At the time he explained that corporations interested in establishing stem cell research and therapy centres in the Bahamas were proposing to build health care facilities and laboratories which would spark job creation.
Mr Christie said every facility or laboratory used for stem cell research or therapy in the Bahamas must obtain a license under the Hospital and Health Care Facility Act.
However, the government's push towards stem cell therapy in the Bahamas has garnered considerable backlash for the Christie administration especially with the alleged involvement of fashion designer Peter Nygard.
There have been conflicting reports, some purportedly from Mr Nygard himself, over his involvement.
Back in October, Mr Nygard claimed in a YouTube video that he initiated and helped to write the stem cell legislation.
Months before, he told reporters that he had no personal interest in the government passing legislation.
The FNM has cautioned the government, warning that to rush stem cell implementation would not be in the best interest of Bahamians.