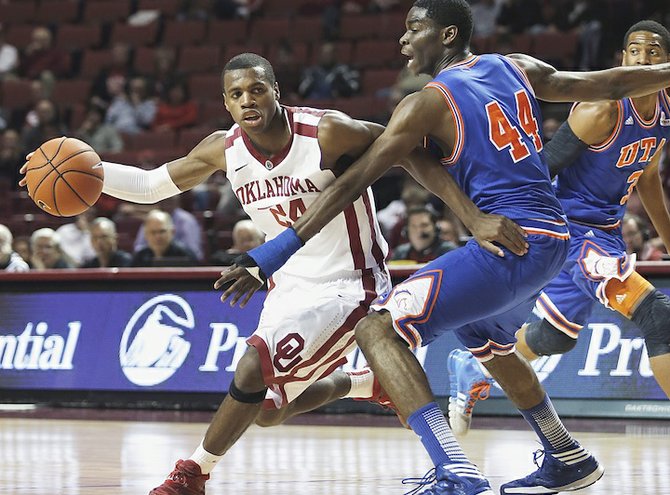 By RENALDO DORSETT
Sports Reporter
rdorsett@tribunemedia.net
PUNDITS expected Buddy Hield to have a breakout season for the Oklahoma Sooners in his sophomore year, but Hield has exceeded expectations thus far on the floor as a scorer and in the locker room as a leader for a team that expects to surprise many people in the Big 12.
In recent outings, Hield has posted his first double double of the year, matched his career high, and shot 50 per cent from beyond the three-point arch.
Sooners head coach Lon Kruger said Hield's leadership has been one of the reasons the Sooners have raced out to a 10-1 start as they prepare to head into the second half of the season and conference play.
"We're still searching for someone to offer that security and someone to step up there and take a more aggressive role in leadership," Kruger said. "[Hield] has got all the raw ingredients starting with energy, enthusiasm and passion. Buddy does a lot of things well and, most importantly, he'll work at it. That's the exciting thing."
In an 86-81 win over George Mason on December 8, Hield had his worst shooting game of the season, but it may have been his best all around game as he finished with 12 points and a season high 10 rebounds. He followed with a career high tying 23 points on 8-15 shooting in the Sooners' 101-91 win over Tulsa on December 14.
It was an effort on the defensive end that helped Hield and the Sooners escape with a 91-89 win over Texas Arlington on December 17. He finished with 19 points and six rebounds, but was a blistering 5-8 beyond the three-point arch.
Despite his shooting prowess, Hield was focused on his team's effort on the defensive end as they barely got by Arlington.
"We just can't rely on our scoring all the time. We have to stay focused and locked in. As leaders, Cam [Clark] and I need to do a better job of getting our guys to slide our feet. Me, I am always on the ball so I have to come out more and pressure the ball more. We have to find a way to stop guys from penetrating in the paint. We need to start being more aggressive and stop being tentative on defence," he said.
Hield is fifth in scoring in the Big 12 at 16.3 points per game.
His shooting has improved from his freshman year as he ranks No. 11 in the Big 12 in field goal shooting at 45 per cent, No. 10 in three-point shooting at 35 per cent.
Defensively, he ranks No. 6 in the conference in steals per game with 1.3 and is ranked No. 10 in playing time at 30 minutes per game.
He ranks second on the team in scoring behind Clark who averages 18.9 points per game, and is one of five Sooners who average double figures in scoring.
"You never know if it's going to be your night. You just have to stay aggressive. If everyone is aggressive every time, one night it's Cam [Clark], this night it's Jordan [Woodard] and me, you never know," he said. "You just have to be aggressive and keep making plays for each other. Whoever gets hot, just keep finding open spots and they can be very successful."
Just before the Sooners broke for the holidays, Hield scored under 10 points for the first time this season in a 64-52 win over the Texas A and M Aggies.
He struggled from the field at 3-10 and finished with a season low six points.