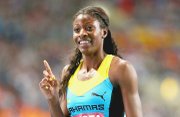 By BRENT STUBBS
Senior Sports Reporter
bsubbs@tribunemedia.net
Quartermiler Shaunae Miller is looking forward to 2014. It will be the first year that she will venture on full season on the professional circuit while she is still pursuing her academics at the University of Georgia where she won this year's NCAA Indoor 400 metres and was the outdoor runner-up.
"Everything is going great right now," said Miller, who is home for the Christmas holiday. "My training has been going great and my school has been going great. I'm really excited right now because indoors is coming up."
The 19-year-old is expected to participate in her first trip to the 15th IAAF World Indoor Championships March 7-9 at the Ergo Arena in Sopot, Poland where she will run in her specialty in the women's 400m in an effort to improve on her fourth place finish in the 200m at the IAAF World Championships in Moscow, Russia in August.
As the first ever athlete to hold the 400m titles at the same time from both the IAAF World Youth in Lille, France in 2011 and Juniors in 2010 in Moncton, Canada, Miller has secured an athletic deal with Adidas that has enabled her to continue her studies in business and management while competing as a pro athlete.
"The training has stepped up big time, but I'm still hanging around my collegiate team-mates, so the adjustment isn't that bad. I've just stepped up my training (under coach George Cleare)," she said.
Without the base of college to rely on before she ventures on the international circuit, Miller said she's not under any pressure as she looks forward to making the transition. She said she knows what she has to do and she's working as hard as she can to achieve her goal.
"I am expected to start running in January in my first meet, but I'm not sure where it will be," she said. "I expect to do very well because my training has been going great. Everything has been going great, so I'm looking forward to running some fast times."
Additionally, Miller said she's looking forward to returning home as she did for the Carifta Games and represent the Bahamas at the IAAF World Relays, scheduled for May 24-25 at the new Thomas A Robinson National Track and Field Stadium.
"It's going to be home and it's going to be the first one ever held, so I think it's going to be pretty nice," she said. "We get to hold it in our home town, so we have to be ready to put on a good show."
Like she did when she closed out her junior career in April by winning the Austin Sealy Award for the most outstanding performance at the Carifta Games, Miller said she's looking forward to her first senior international meet at home when the relays get underway.
"It's always great to compete at home. Having the home crowd cheering us on is a great feeling. It makes you want to compete even more," she said. "So we just want to do our best and try to represent the Bahamas very well."
Her father Shaun Miller coached her up to her departure to Florida two years ago after her initial appearance at the Olympic Games in London, England.
"In talking to her coach and her agent, they got off to a slow start, but they are looking for her to pick it up during the indoor season," Miller said. "We spoke to the BAAA earlier and they have indicated her name for the pool of athletes who intend to go to the World Indoor Championships.
"It will be her first event in representing the Bahamas at the World Indoors. So we're looking forward to seeing how well she competes there. We are also looking at her coming home to compete for the Bahamas in the World Relays."
Miller, who still coaches a number of athletes on the local scene, said he's happy to see that the BAAA has sorted out its dispute and they can now concentrate on the task ahead and that is putting the athletes first.
"I want to congratulate Debbie Ferguson-McKenzie because if it wasn't for her threat to the BAAA to get it together or else, I feel as if they would have still been bickering," he said. "So I want to take this opportunity publicly to thank her for making this happen because we are now back on track because all of the athletes are excited and eager to compete."