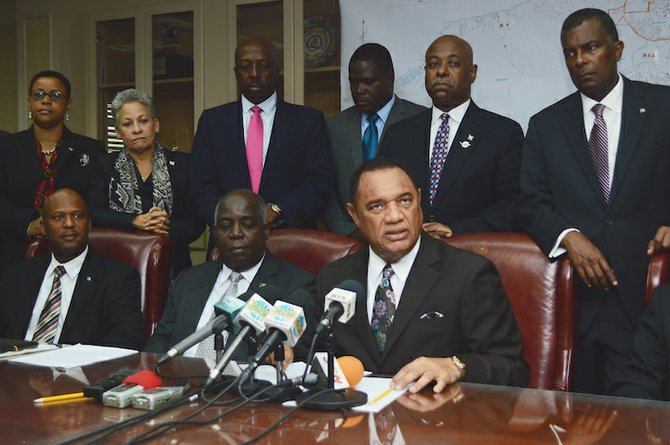 By SANCHESKA BROWN
Tribune Staff Reporter
sbrown@tribunemedia.net
A POLICE unit specifically aimed at organised gangs will be formed in an effort to combat escalating crime, Prime Minister Perry Christie said yesterday.
The 12-hour shift will also be re-introduced, said Mr Christie, as he outlined more than two dozen 'key measures' he said have either been taken, or will shortly be taken, to escalate the war on crime.
Mr Christie said, if necessary, the government will pass laws to bind the hands of judges to prevent them from allowing persons accused of serious crimes to be granted bail.
"The reinstatement of the 12-hour policing shift, possibly on new terms, is now the subject of intense study and discussion. A further announcement on this subject can be expected once the necessary consultations within law enforcement have been completed. The Government is deeply concerned about the number of persons who are arrested and charged with serious crimes while out on bail. This is a major problem in the war against crime.
"The Government is fully prepared to legislatively intervene to impose additional restrictions on the ability of judges to grant bail in offences involving crimes of violence and the use of firearms," the Prime Minister said.
"Cabinet has directed the Ministry of Works to work around the clock to complete refurbishment of additional criminal courts so that as many as 10 criminal courts will be able to hear criminal cases simultaneously.
"This massive expansion of the judicial infrastructure will enable criminal cases to be disposed of much more quickly and efficiently which, in turn, should dramatically reduce the number of persons released on bail while at the same time ensuring that violent offenders are kept securely behind bars to serve their sentences once they have been speedily convicted.  The courts will be properly resourced in additional ways so as
to eliminate delays and postponements. Measures in this regard will be especially directed at curbing unnecessary adjournments and delays."
The Prime Minister also said measures will be reinforced by aggressive initiatives under operation 'Cease Fire' including targeting prolific offenders, the appointment of new judges and public defenders and the formation of a Gang Unit.
Mr Christie said the government will not compromise itself in an effort to relentlessly fight the scourge of crime.