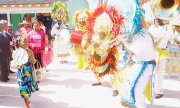 TOUR operators commended vendors and regulatory officials for exceeding expectations for local craft offerings at the Cable Beach straw market at Pompey's Village.
Hosted by the Straw Market Authority, operators were given a cultural tour of the facility as part of the authority's new strategy to directly advertise straw markets.
The tour, which the authority hopes will be undertaken daily, will highlight raw materials, processes, and finished products of indigenous craft.
Operators present included Majestic Tours, Bahamas Experience, and Leisure Travel and Tours, all of who underscored the demand for authentic local market.