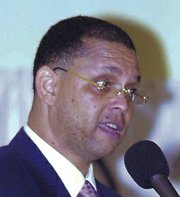 By NEIL HARTNELL
Tribune Business Editor
nhartnell@tribunemedia.net
Modernising the Bahamas' casino gaming legislation is critical to driving a sustained increase in resort occupancy levels, a senior hotel executive yesterday saying an industry-wide 10 percentage point rise would create 9,000 total jobs.
Suggesting that implementing the private sector's proposed 18 recommendations would help "to create jobs for many years to come", Robert Sands, Baha Mar's senior vice-president of government and external affairs, told Tribune Business that every 100 additional stopover visitors to the Bahamas were estimated to create 12 jobs.
"If you increase occupancies, jobs will increase as well," Mr Sands told Tribune Business. "If you were to look at just increasing overall occupancy rates in the Bahamas by 10 per cent, we believe the potential for new jobs created is around 9,000.
"Fifty per cent of those will be direct jobs in the hotels and gaming sector, and 50 per cent will be indirect Bahamian jobs."
Major Bahamian resorts were achieving average annual occupancy rates in the high 60-low 70 per cents, and Mr Sands reiterated: "Anywhere from a 10-20 percent age point occupancy rate increase over a period of time, with these changes and all the other conditions in place, are not unrealistic."
Mr Sands cited the other conditions, apart from the gaming legislation and regulation changes, as being the creation of new resorts (Baha Mar); improvements to the overall Bahamian tourist product; and further infrastructural upgrades to facilities such as airports and roads.
Modernising the Bahamas' casino gaming legislation, which has been unchanged since 1969 when it comes to major reforms, is seen as vital to attracting more high-spending casino players to this nation via changes permitting the likes of placing bets via cell phones and sports wagering during games.
Mr Sands said the Government's goal of implementing the reforms by March or before the 2013 first quarter ended had not changed, so far as the industry was aware.
"We are encouraged, and certainly optimistic, that this deadline can be met, and this modernisation initiative come to fruition during this time period," he told Tribune Business.
The casino gaming industry's worldwide expansion in recent years had almost "forced" the Bahamas into these reforms to keep pace, he added, and drive new revenue sources by matching consumer trends and the evolution of technology.
"These initiatives will certainly position the Bahamas as a global casino destination," Mr Sands added.
"It's going to drive revenues, create a sustainable competitive advantage, and help with the expansion of Bahamian tourism, which are three important conditions for industry growth.
"It can only catapult, or help to catapult, the Bahamas as a preeminent gaming destination."
And he further told Tribune Business: "What is so important about this is, that if this is successful, there is an opportunity for a number of highly-skilled jobs for Bahamians.
"This niche in our tourism industry sustains and causes growth, which also creates jobs. It's a win-win situation.
"There's absolutely no question in my mind that this whole modernisation programme, more than anything else, will really work to expand Bahamian tourism and create jobs for many years to come."