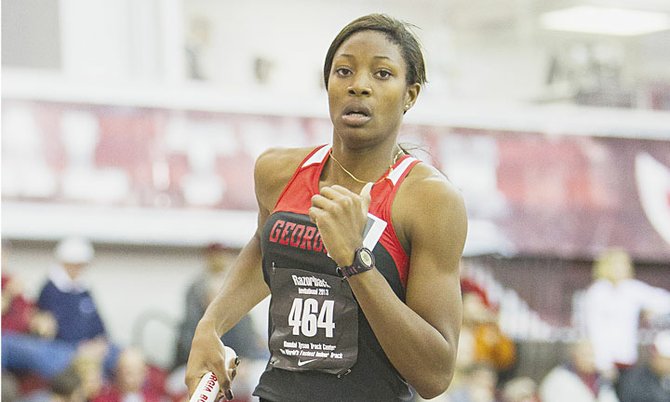 By BRENT STUBBS
Senior Sports Reporter
bstubbs@tribunemedia.net
FRESHMAN Shaunae Miller, the moast decorated athlete expected home to represent the Bahamas at the Carifta Games next month, inked her name in the record books at the University of Georgia in just her first appearance in an indoor event in her specialty in the women's 400 metres over the weekend for the Lady Bulldogs.
Heading the Bahamian connection for the Lady Bulldogs at the Akron Invitational in Akron, Ohio on Saturday, Miller completed the two-lap race on the indoor 200m track in an impressive time of 52.96 seconds to erase the previous University of Georgia's record of 53.19 that was set by Gudrun Arnardottir at the 1996 SEC Championships.
Miller's time was more than two seconds ahead of second-place finisher Xauddina Whittington, who ran 55.29. It was also the fourth fastest time posted in the United States and in the Southeastern Conference (SEC) so far this year, while ranking her at number 17 in the world.
The St. Augustine's College graduate, who made her collegiate debut a week ago at the Razorback Invitational where she ran in the 60m and as a part of the Lady Bulldogs' distance medley relay team, also doubled up in Akron with a victory in the 200 in 23.99 for the sixth fastest time in the history of the University of Georgia.
Her team-mate sophomore Tynia Gaither was second in 24.22. Gaither, a Bahamian who grew up in Florida, was second in the 60 in 7.53 after finishing third in the preliminaries with the third fastest time in winning her heat in 7.51. Another Bahamian, quarter-miler Rashan Brown from Grand Bahama, didn't suit up to compete.
"I felt pretty good about my performance. It was the first time that I opened up in both the 200 and the 400, but I felt like I did pretty good," Miller stressed. "I wasn't worried about the times. I was just trying to get a eun in. So I was pleased with the performance."
The six-feet, one-inch 2010 IAAF World Junior Championship and 2011 World Youth Championships back-to-back champion who got injured competing in the first round of the 2012 Olympic Games in London, England, said she doesn't have any expectations for this year, but to remain healthy and compete very well.
"I'm looking for the best year and try to stay healthy," the 18-year-old phenol stated. "I guess you can say I'm fully recovered now. I just got done with some therapy and now I'm back in training. I got back in January and things have been looking good for me."
As for making the transition from the high school to the collegiate level, Miller said it's different because "the competition is much harder, but I'm making the best of it. I feel pretty good about where I'm at this point in the season."
Miller, who is due to compete again at Virginia Tech next weekend, said she has her mind set on coming home to represent the Bahamas at the Carifta Games from March 28-April 1 at the new Thomas A. Robinson Track and Field Stadium. With this being her final appearance, Miller is hoping to put on a show in front of the home crowd.
"I'm looking forward to it," she proclaimed. "I'm really excited, especially with it being at home. Hopefully I will do very well."
George Cleare, the Bahamian assistant coach at Georgia, said Miller is starting to come into her own right now.
"It was a pretty easy race for her," Cleare said. "She just started to get into her intense training in January because we were taking a lot of precautions with her. She's not in her 400 metre shape yet, so once she stays healthy, we will bring her along slowly. By the time she get outdoors, she should be running some fantastic times."
As for Gaither, who completed her Carifta eligibility last year, Cleare said "she's running consistently and at any time, I expect her to drop some really good times."
Brown, on the other hand, is still recuperating from a season ending injury.
"We're still doing a lot of evaluation and assessments, making sure she is healthy and trying to formulate a plan to bring her back as quickly as possible, but at the same time as safely as possible," Cleare said. "So we don't expect her to hit the track anytime soon. We want to make sure that she's healthy and ready to compete.
"Up here, our motto is to make sure that the athletes are healthy and once they are, we want to get them to compete at the best of their abilities."
Cleare, who is working with a number of other competitors from the Caribbean - both at the collegiate and the professional ranks, said as long as Miller can stay away from the injury bug, she is expected to be in town for Carifta.
"As long as she is healthy, we plan on having her come home to represent the Bahamas," Cleare projected. "It's strictly based on her training and her healthy. If she is healthy, we expect her to be there. We are just trying to be very cautions with her. There is no rush to try to do anything big right now. We just want her to be healthy."
A number of athletes competed in other meets around the United States over the weekend.