By LAMECH JOHNSON
Tribune Staff Reporter
ljohnson@tribunemedia.net
A JAMAICAN man pleaded not guilty to possession of dangerous drugs with intent to supply, discarding his initial plea two days ago when he said he owned the marijuana found in his luggage.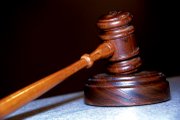 The drugs were discovered five days ago, when he and six others were pulled over in a van following a failed attempted to be smuggled into the United States.
Barrington Robinson, 48, of St Thomas, Jamaica, who claimed to be under duress on Tuesday, pleaded not guilty to the charge when it was read again yesterday.
Robinson, along with countrymen Roger Williams, 33, of Kingston; Christopher Salmon, 44, of Westmore; Kirk Wilson, 33, of St James; and Suszanna Latouche, 46, of Kingston were arraigned on the charge, as were Haitian national Junior St Jean, 22, of Carmichael Road; and Bahamian Richard Johnson, 42.
It is claimed that on February 2 in Freeport, Grand Bahama, they were in possession of dangerous drugs with intent to supply.
The seven defendants, driving in a van, were pulled over by Mobile Division police officers near Harbour Shopping Centre.
A search turned up 14 pounds of marijuana in two separate packages.
Simeon Brown, Johnson's attorney, asked the magistrate if she was willing to read the charges again to the defendants.
Latouche had already began crying at this point and her sobbing intensified when Deputy Chief Magistrate Bethell asked Robinson for his plea to the charge.
Unlike on Tuesday, where he on four occasions switched his plea from guilty to not guilty and back while explaining that the drugs were stashed in his bag by the men he paid $8,000 to in order to be smugged into the US, the St Thomas Moore native answered "not guilty".
After the remaining accused entered not guilty pleas, the magistrate told them that she would give them an early trial date – June 21.
However, regarding bail, she said: "As you already know, I'm going to deny bail to all of you."
She did note that they had the right to apply to the Supreme Court if they wished.
The seven accused were remanded into custody.
They each face a minimum four years imprisonment if convicted.