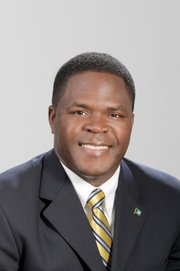 By NEIL HARTNELL
Tribune Business Editor
nhartnell@tribunemedia.net
A Cabinet Minister yesterday said he was "focusing a lot of my efforts" on reopening closed hotels and resort development projects halted by the recession, particularly those that could revive Grand Bahama's "dead" economy.
Khaalis Rolle, minster of state for investments, told Tribune Business that hotel and tourism-based projects were still the ones that could generate most Bahamian employment in the shortest timeframe.
Among his key targets are Grand Bahama's Royal Oasis and Port Lucaya properties, plus the former Ginn project in the island's West End. Also in Mr Rolle's sights are the Rose Island project just off New Providence's shoreline, plus a number of Family Island sites.
On the plus side, Mr Rolle told Tribune Business that his recent appearance on the American Lodging and Investment Summit's (ALIS) International Showcase panel showed the Bahamas was still "very competitive" when it came to attracting foreign direct investment (FDI), with this nation "the most dynamic" on the panel.
And he disclosed that the Government was also looking at the incentive framework implemented by US states, such as Louisiana and Connecticut, as "a model" for the Bahamas when it came to attracting filmmakers to use this nation.
Acknowledging that matching the right investors to the potential opportunities offered by the Bahamas was key, Mr Rolle said: "The opportunities are still primarily resorts. Those are the easiest to create jobs immediately; in a reasonable timeframe."
Noting that numerous Bahamas-based resort development projects that started during the first Christie administration's tenure came to a screeching halt with the 'worldwide 'credit crunch', then recession, Mr Rolle said he was targeting these - and existing resort properties that were closed - as 'low hanging fruit' when it came to reviving the economy, FDI and employment.
"I'm still focusing a lot of my efforts on getting those projects restarted, re-opened and recapitalised," he told Tribune Business. "Particularly the ones in Grand Bahama; all the ones closed on Grand Bahama. If we can get some of those closed resorts re-opened, it takes the burden off Nassau.
"The Rose Island project is still not functioning, and the former Ginn in West End still has tremendous opportunities."
Mr Rolle added that a Family Island-based resort project was set to be announced "in a couple of weeks", while Fort Capital Management's Norman's Cay project was "well on its way".
Indicating that the ALIS conference had given him confidence, Mr Rolle said he had represented the Bahamas on a panel discussion that featured other nations including Scotland, Argentina and Australia.
"The Bahamas was actually the most dynamic on that panel," he told Tribune Business. "During the question and answer period, there was more interest in what I had to say than anyone else.
"It signals we are still very competitive. People are still very much interested in doing business in, and investing in, the Bahamas. We just have to find the right opportunities.
"The prospects are extremely high. It's just a matter of continuing to develop them, and pairing up the right people with the right opportunities."
Mr Rolle added that ALIS had indicated to the Bahamas where the hotel industry, and its investors, were heading, and "told us how competitive we are with other destinations".
"There are some great opportunities that came out of it, particularly for Grand Bahama," Mr Rolle said. "Obviously, that economy is dead, and we are looking at ways to expand all the opportunities throughout the Bahamas."
Mr Rolle added that the film industry had emerged as a possible opportunity for Grand Bahama at the ALIS.
Hollywood filmmakers who met with the Government and Grand Bahama Port Authority (GBPA) officials had indicated there were "tremendous opportunities" outside of Los Angeles.
Mr Rolle said the likes of New Orleans, Louisiana and Connecticut had "been very successful with attracting a large volume of fillmmakers because they have the right incentives and framework".
"We're going to look at that model and see how best we can [use] that," he added.
Follow-up meetings are also planned with fund and asset managers met by the Bahamian delegation at ALIS. Mr Rolle said three such meetings were planned on Grand Bahama next week.