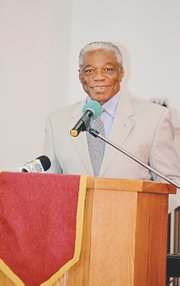 AN official delegation returns to the Dominican Republic next week for more talks on a bilateral agreement to address illegal fishing in Bahamian waters. And the government will soon approve a $200 million investment in patrol boats and port facilities for the Defence Force.
These were the two big take-aways from a meeting with fishermen held at the Defence Force base at Coral Harbour last Friday.
Besides fishermen, wholesalers and marines, the attendees included National Security Minister Bernard Nottage, Marine Resources Director Michael Braynan, and Chet Neymour of the Ministry of Foreign Affairs. Ministers Fred Mitchell and Alfred Gray failed to show up.
The meeting was the result of a consensus among fishermen that poaching is out of control, with Bahamians risking violent confrontation with Dominican fishermen whenever they go to sea.
"Our traps are stolen or destroyed every trip," said fisherman Keith Carroll, "and if we don't bring back fish we don't make any money – we can't count on a salary like you guys. We are scared to fish in some places because they will attack us. If you don't do something fast, fishermen will start coming back in body bags."
According to Minister Nottage, the Defence Force will recruit another 300 marines (bringing total manpower to 1600), activate the $10 million Gun Point base at Ragged Island, improve intelligence and communications capabilities, engage in regional cooperation, and acquire more ships and aircraft.
This is the same $200 million plan drawn up by the previous administration and discussed publicly several times last year. However, in December the prime minister back-pedalled, saying the plan might have to be put on hold due to financial constraints. But on Friday Nottage acknowledged the BDF's "serious issues with resources" and said the government was now "close to signing off" on the acquisition plan.
Purchased over four years, the vessels would include four inshore patrol craft; four coastal patrol vessels; two offshore patrol vessels; and one landing craft, as well as infrastructural works, logistics and training. Currently, the BDF has six interceptors, three inshore patrol craft, three offshore patrol vessels, several ancillary vessels, and three surveillance aircraft – sometimes used for "executive travel."
The Bahamian fishing industry has one of the highest values in the region, and the "rape and pillage" of Bahamian fish stocks is considered by many to be one of our greatest national security threats. Michael Braynan, of the Department of Marine Resources, said illegal, unregulated and unreported fishing caused significant damage to the economies of many nations in terms of lost jobs, revenue, and resources.
He pointed to the killing and wounding of several Honduran poachers by the Jamaican Defence Force in 2011, which touched off a diplomatic row between the two countries and led to CARICOM's issuance of the Castries Declaration. The declaration recognised the important role of fisheries in the region, and agreed on a number of steps to combat illegal fishing, including market-related measures, improved conservation management, and enhanced regional cooperation.
"Poaching is a major problem that must be attacked from every angle," Braynan said at the meeting, while at the same time noting that foreigners are able to work on Bahamian fishing boats with a work permit or a spousal resident permit.
That is a burning issue for many. Commercial Fishers Alliance President Adrian LaRoda said all fishermen working in the Bahamas should have a photo id including permit numbers if they are foreign. "This should be the first order of business," he said. "It could be done tomorrow."
According to Senior Immigration Officer Rudolph Ferguson, the government receives numerous applications for boat mechanics, engineers and even captains, but was no longer issuing work permits – only spousal permits, which allow employment in any sector.
This led to an angry discussion about marriages of convenience, which Nottage acknowledged were difficult to prove. "We need to develop a workable policy on permits," he said. "There are thousands of permit holders here doing jobs Bahamians can do. We need to create a special unit to look into this, and I promise a sustained effort to implement any useful recommendations."
Commander Nedly Martinborough, a 28-year BDF veteran, said poaching was a grave national concern, but the BDF had multiple responsibilities, including harbour security, firearms smuggling, illegal immigration, drug trafficking, stolen vessels, and search and rescue operations. He added that 250 poachers had been arrested and deported in 2010, when some $400,000 in fines were collected – "not much return for the resources expended and the damage done," he admitted.
"We know when and where grouper schools and the Dominican fishermen will always be there so the BDF should patrol those areas at that time. Why aren't you doing that?" Caroll asked angrily. "Trying to communicate with the Defence Force is like calling Jesus. The southern banks are fished out by the Dominicans year-round. it's a waste of money to buy new patrol boats if permit holders are talking to poachers. Sometimes the Defence Force says it's too rough for them to respond while we and the foreign boats are out there working."
Commodore Roderick Bowe responded by saying the Defence Force had to juggle its limited resources depending on what was happening throughout the archipelago. "We know of the problems and are in dialogue to develop better plans. We have to provide assets all over the Bahamas so there is no way we can just sit in one spot. Don't give up on us. We hope to have a new communications system installed later this year. We are working on the challenges."
According to Chet Neymour of the Ministry of Foreign Affairs, "poaching is at the forefront of our diplomatic efforts. We made several attempts to talk to the Dominicans after ties were established in 1991, but there was no significant movement until 2010 when they wanted our help with trade issues in CARIFORUM. We are also talking to Cuba and the US on ways to improve enforcement, but it takes time."
He estimated annual losses of some $70 million in stolen fishery resources, but expected this to start trending down once a framework agreement is signed with the Dominican Republic. "We have momentum and a counterproposal on this agreement will be discussed next week. There will also be subsidiary agreements on bilateral fishing issues and military enforcement. The framework agreement will set up a joint commission and work plan with benchmarks and a timeline, which we will be able to review and amend. We have a grand opportunity to make this a watershed moment."
Mia Isaacs, of the Marine Exporters Association, said the Bahamas had to adapt to changing international standards. "We have no choice. Poaching may cause certification to fail, putting us at disadvantage and hurting the economy. We do not want our fisheries to be depleted and our territorial waters should be sacred. We must work together to agree on solutions to our fishing challenges."
Isaacs was referring to an initiative is sponsored by local seafood processors in a bid to win endorsement for crawfish exports under the European Union's new Catch Certification programme. Without this endorsement, which is aimed at reducing the over-exploitation of global fishery resources, Bahamian lobsters will be banned from the EU. And that lucrative market takes about 40 per cent of the 12.5 million lobsters we legally export every year (based on a four-year average), a catch valued at more than $87 million.
EU certification requires that lobsters are received only from licensed vessels using legal methods – meaning that only crawfish of legal size and condition are harvested. All fishery products must be properly documented upon landing, with guarantees that exports are not derived from illegal, unregulated or unreported fishing.
But LaRoda said he did not understand why the Bahamas was making such an effort to go to the Dominican Republic to talk. "The way to get action is to arrest and jail them – then the DR will come to talk to us. We have been talking for years but the DR has never arrested any of their boats. We don't even have a boundary with them, so why are we talking to them?"
He called for the existing fisheries advisory council to be converted into a statutory body to ensure proper resource management. "The fishing industry supports some 9,000 people here and we are tired of being harassed at sea by the BDF. Whenever we complain about something our ships are boarded multiple times per trip. We don't fish illegally and we don't use illegal equipment like hookahs yet the BDF sees hookahs out there all the time and does nothing. We feel like second class citizens in our own country."
But according to Nottage the government takes poaching very seriously. "We met with people in the DR at all levels from the president down and they are all aware of the problem and had themselves mapped out plans to deal with it. We are satisfied that their response was genuine."
He also issued a warning. "In recent years most drugs have been reaching the US through Mexico. But since the recent border crackdown we expect that some of this traffic will be redirected through the Bahamas. As a result we may soon have to deploy drones (pilotless observer aircraft) for better detection of illegal activities throughout the archipelago."
The 'Father
of Bimini'
Several readers contacted me about last week's column, when – in a slip of the mind – I wrongly credited the founding of the Bimini Big Game Fishing Club to Neville Roberts. The actual founder was Neville Stuart, and I was familiar with both men.
Stuart was born in Nassau in 1902 and died in 1987, hailed as "the father of Bimini" for his contribution to the island's tourism industry. In the late 1920s he was a fuel salesman for the West India Oil Refining Company (a subsidiary of Standard Oil of New Jersey, which eventually became Exxon). The job required a lot of out island travel, but Bimini was his preferred destination.
Stuart's investments on the island were partly instigated by Ernest Hemingway, who came to Bimini from Key West in 1935 to fish for tuna and marlin on his famous yacht, Pilar. Hemingway persuaded Stuart to acquire the Fountain of Youth, a Prohibition-era bar, and turn it into a guest house for anglers.
In 1936 Stuart built a small hotel called the Anchors Aweigh on the north island's oceanside, which was destroyed by fire but rebuilt in 1938. The International Game Fish Association, formed in 1939 by prominent Bimini-connected anglers (including Hemingway), encouraged Stuart to organise sport fishing tournaments after the Second World War.
"This led to expansion, and in 1955 he began construction of the marina, pool and cottages of the Big Game Fishing Club on the harbourfront – just across from the Anchors Aweigh," Stuart's daughter Pamela told me. "The dining room and bar for this project were located in the original Fountain of Youth building, which was renovated for the purpose. In 1961 he added a 40-room hotel to the property and operated it until selling out to the Bacardi family eight years later."
In the 1950s and 60s Stuart owned the iconic Bimini Gal mailboat, which sank in 1972 off Andros. My grandfather, who worked for liquor merchants on Bimini during Prohibition days and was the island's district commissioner in the 1940s, was the Bimini Gal's Nassau agent in the 1960s.
In 1978, Stuart was named "Mr Bimini" by the island's Progressive Sporting Club. At a ceremony in his honour then Governor-General Sir Gerald Cash said that in addition to his contribution to Bimini's development, Stuart had been "instrumental in the successful promotion of yachting to all of the Bahamas."
Neville Roberts, the brother of attorney Dawson Roberts, was another Bahamian entrepreneur who had many irons in the fire. He acquired the Shell agency, operated a car dealership and a rental fleet, and built the East Bay Shopping Centre and Marina. He also built the cement depot at Clifton Pier and was keen on developing a deep-water port at Marsh Harbour, Abaco. Roberts died in 1982.