By BRENT STUBBS
Senior Sports Reporter
bstubbs@tribunemedia.net
CHRIS 'Fireman' Brown said he was "shocked" to hear that his Olympic 400-metre rival Oscar 'the Blade Runner' Pistorius was charged with the shooting death of his girlfriend at his home in a luxury gated community in South Africa yesterday.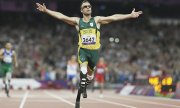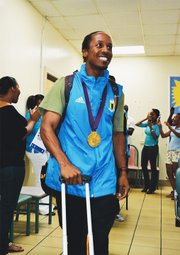 Brown, the Bahamian national record holder, said he had just spoken to Pistorius, the first man to compete in the Olympic Games and the Paralympics, on Tuesday about coming to the Bahamas to compete in his Chris Brown Invitational Track Meet that will be held on Saturday, April 13, at the new Thomas A Robinson Track and Field Stadium.
"To now hear this news two days later is very shocking," said Brown from his home in Atlanta, Georgia, yesterday.
"Whatever the outcome, I want to keep him and his family and the girlfriend's family in prayers. This type of news in this time is very saddening, so just to hear something like this, my heart goes out to both of their families."
Pistorius, 26, was charged with the shooting death of Reeva Steenkamp, his 30-year-old model girlfriend. Reports indicated that Pistorius was surprised by his girlfriend, who showed up at his house about 3am and had thought she was an intruder. Steenkamp was reportedly shot four times.
Brown said his conversation with Pistorius was a result of their relationship they developed off the track.
"We were just catching up and trying to find out about the competition that I am putting on," Brown said.
"He wanted to look at the possibility of coming here to compete. So I was just following up with him and he told me that he wanted to come and support me at the meet, although it was a definite guarantee that he would come.
"Now two days later, to hear this type of news, is devastating. But mistakes happen. Accidents happen. I'm very shocked and sorry. I can't say enough about how I feel right now. It's so sad that it happen to a guy like him. He's a good guy. He's a nice guy off and on the track. He's a very nice person."
Pistorius, who has double below-knee amputations, has competed against Brown in a number of Diamond League meets where they've had varied success. However, they met again at both the IAAF World Championships in Daegu, South Korea in 2011 and against the Olympics in London, England in August where Brown had the upper hand.
In London, Pistorius also competed on South African's 4 x 400 relay team that didn't finish with a collision with the Dominican Republic. However, after a dispute was filed, South Africa was added to the final where they placed eighth as the Bahamas went on to take the historic gold medal in a stunning upset over the United States of America.
"I just spoke to some more of my friends from South Africa and they say the whole country is saddened by the news," Brown said. "It's touching. I don't know what to say. It's very sad. Everybody's heart goes out to him because he's not that type of guy that seemed to be violent. We just have to keep him in our prayers.
"The way the world is spinning, you just have to keep praying and keep God first in everything that you do."