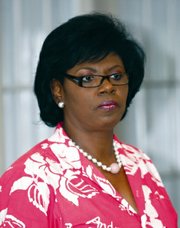 By NATARIO McKENZIE
Business Reporter
nmckenzie@tribunemedia.net
CONSTRUCTION work on stage three of the Lynden Pindling International Airport (LPIA) is 40 per cent complete, with more than $12.8 million having been injected into the Bahamian economy through the procurement of local services.
Vernice Walkine, incoming president of the Nassau Airport Development Company (NAD), LPIA's operator, speaking at a Stage III last beam 'topping off' ceremony, said the final stage of the $409.5 million expansion project, which calls for the construction of the domestic and international check-in hall and domestic arrival facility, is set for completion in autumn this year.

"In the month of January, 208 workers including 142 Bahamian workers were on the project, and at the peak of construction we anticipate that number growing to 300 workers on site," said Ms Walkine.
"In the upcoming months the perimeter walls and roof will be completed, with the structure fully enclosed by the end of July 2013. Specifically, to-date, we have spent more than $12.8 million for local services on this stage of the project. This third terminal is on target for completion in the fall."

Construction on stage three began in October 2012. The facility is being constructed by the Canadian firm Ledcor, in partnership with Woslee Construction of Nassau.
Stage one of the LPIA expansion saw the design, construction and opening of a new US Departure Terminal, inclusive of 19 new retail and food outlets.
Stage two of the LPIA expansion project included the construction of a new international arrival terminal that opened last October.
NAD signed a 30-year lease with the Government in April 2007 to manage daily operations at LPIA, and is responsible for most of the physical infrastructure including parking lots, terminals, runaways and taxiways.