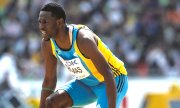 By BRENT STUBBS
Senior Sports Reporter
bstubbs@tribunemedia.net
A NEW coach and training location is already starting to pay off big dividends for Donald Thomas as he tries to regain his form that enabled him to produce the IAAF World Championship men's high jump title in 2007 in Osaka, Japan.
Completing a four-meet series on the indoor circuit, Thomas finished fourth at the British Athletics Grand Prix in Birmingham, Great Britain. He was tied with the same height of 2.29 metres or 7-feet, 6-inches with Briton Robert Grabarz and Russian Ivan Ukhov, who were second and third. Russian Aleksey Dmitrik won the competition with a leap of 2.33m (7-7 3/4).
Thomas, who was back in the United States, said he was pleased with his performance, which turned out to be his season's best.
"It was good. It was good competition," said Thomas, who was inspired by clearing the same height as Ukhov, the Olympic Games' bronze medallist. "We only had one competitor who jumped higher than us. So it was some very good competition. I really enjoyed it."
Thomas, the only Bahamian competitor on the European circuit this year, said he had cleared 2.30m (7-6 1/2), but as he was walking out of the bed, the bar fell and he wasn't credited with clearing the height. Despite not winning the competition, or any during the indoor season, Thomas said he was still satisfied with his performance in Europe.
"I am satisfied with the way my training is going. It's going in the right direction," said Thomas, who is now being coached by Dan Pfaff in Arizona. "My training has been going good. I'm jumping the same height as the other guys and I'm consistent in the top three-four competitors."
Pfaff is the former coach of strong woman Lavern Eve. He also at one time coached national indoor and outdoor high jump record holder Troy Kemp, who won the IAAF World Championship title in Gottenburg, Sweden, in 1995.
"I'm going to take a couple days off and then I will be back right at it on Wednesday," Thomas said. "I will take a couple of weeks to get ready for the outdoors."
In Arizona under Pfaff, Thomas said he's surrounded by a lot of jumpers and he's getting a lot of one-on-one time as he tries to iron and fine tune his technique.
"Down in Auburn, I was getting some good training, but I just needed that extra attention," he said. "Everyone I'm training with are professionals. I'm not in the college system anymore. I think it's a better move for me because I can train like a professional athlete from 9-5."
Thomas, a 28-year-old native of Grand Bahama, said his ultimate goal is to get ready for the World Championships in Moscow, Russia, in August.
"I just want to be able to go there and show up and do something spectacular," Thomas said. "I used indoors as a pedestal to get ready for outdoors. I expect to jump even higher this year, so I'm really putting in the work to get ready for the world championships."