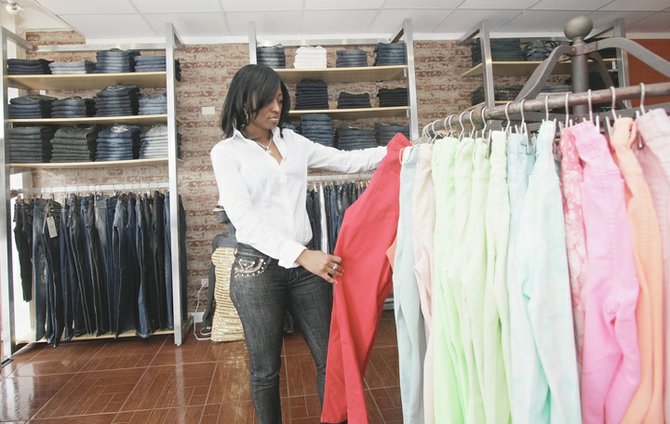 By ALESHA CADET
Tribune Features Reporter
acadet@tribunemedia.net
FOR the past ten years, she has worked in the marketing and distribution field. Using her skills, Dania Ferguson decided to branch off and become her own boss. She is now the proprietor of her very own retail clothing boutique.
The youngest of many brothers and sisters, Dania said her ambition in life is to always be an awesome mother to her five year old daughter, Tia-Isabella Adderley, and one day, to get married and be an awesome wife.
She said opening her new store "24/7 Denim" was something she wanted to do for a very long time, even though some people told her it would not be a viable business. She encourages women to never give up on their dreams and to always believe in the possible. Education is key, but a reputation is just as important, said Dania.
Even though Dania's store is new in the Mackey Street area, she said her hopes are to expand to other areas in Nassau, and the Family Islands as well. "I would also like to design my own jeans for both men and women, which would be an affordable signature piece for the store and eventually other stores," said Dania.
"I give honour and reverence to God on a daily basis for allowing a girl who has come from humble beginnings to have achieved these enormous blessings. The biggest influence in my life was my mother who is now deceased. She was a single mother and sacrificed so much to provide the best of her ability for her four children. She instilled in me the importance of education and value and respect for oneself," said Dania.
Before opening her store, Dania said she often received comments on her personal attire and style. "I sat down for the longest time trying to ask myself what would work for me. That is when I thought of a clothing store. I knew that there are a lot of clothing stores in Nassau already, so I simmered my idea down to a denim store," said Dania.
Since opening, she said one of the greatest challenges has been trying to please every customer that walks through the door. Dania said she tries to listen to the wants and needs of her customers, and provide merchandise to please them to the best of her ability.
Dania said no matter a person's shape or size, everyone deserves to own a pair of good denim jeans. And that is the philosophy behind the clothing store.
"After hearing many persons say that it was virtually impossible to find a nice pair of jeans in Nassau, I was inspired to open the store. I conducted a market study and discovered that a denim store offering a large variety of quality denim was needed," said Dania.
She chose the name "24/7 Denim" because she wanted people to know that it offered all types of denim for every occasion. Since the store's opening, Dania said specialising in denim wear has afforded her a competitive advantage over other clothing stores in Nassau.
"The business has been going relatively good so far. Apart from denim, we also offer a variety of other shirts, dresses and accessories, but denim is what we specialise in," she said.
With over one hundred different styles of denim currently in 24/7 Denim, Dania said shoppers can find different washes and colours for women and children. She said there are also fifteen different denim looks for men.
Dania said she expects the Spring/Summer season denim fashions to be extremely popular. The styles include prints and ripped jeans styles. Also, a number of spring colours, which are currently a combination of dark hues and light pastels.
"For those that want to keep it basic and a little conservative, the basic blue is a signature look that never goes out of style," said Dania.