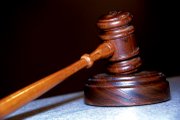 A FORMER Scotiabank loans officer has admitted guilt about his role in stealing $1.3 million from the Nicholl's Town branch.
Byron Roberts, Natasha Evans and Tremell Taylor were charged with stealing by reason of employment, concerning the theft of $1.3 million from the Andros branch between April and June 2008.
At the time, Roberts was a loans officer while Taylor was a trekker and Evans was the assistant branch manager.
All three denied the charge when they were arraigned in the lower court before the matter was forwarded to the Supreme Court for trial.
The trial started last week and yesterday Roberts changed his plea to guilty.
The trial resumes today before Justice Indra Charles.