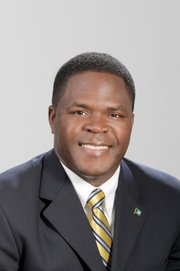 By NATARIO McKENZIE
Tribune Business Editor
nmckenzie@tribunemedia.net
A well-known consultant yesterday said long-planned small business development legislation would be "like a 40th anniversary gift to the Bahamas" if it was brought into law, as the Government works "feverishly" to get it enacted
Khaalis Rolle, minister of state for investments, said the Government was launching a four to six week consultation period on the proposed Small & Medium-Sized Business Development Bill.
"We're looking at the consultation on this initiative starting in about a week or so, and this will give us the basics for what we need to bring to Parliament," Mr Rolle said.
"The legislation has already been drafted and now we are just going to test the quality of legislation with the entities impacted, and the small and medium-sized business community, to ensure that their views are accurately represented. We expect the consultation will last four to six weeks."
Picking up on what essentially had been left in place by the former Ingraham administration, Mr Rolle noted that the "second generation legislation" was important because it lends support to the growth and development of small and medium-sized enterprises.
"This is the culmination of a lot of hard work by the private sector and public sector, more specifically the Bahamas Chamber of Commerce and Employers Confederation (BCCEC), the Ministry of Finance, the private sector and the Inter-American Development Bank (IDB), and it's bringing to Parliament second generation legislation that is designed to support the growth of Small and Medium-sized Enterprises (SMEs) in the Bahamas," said Mr Rolle.
He promised that the legislation would be brought to Parliament this year.
Mark A Turnquest, of Mark A Turnquest Consulting, a well-known adviser to many Bahamian small businesses, said yesterday it was vital that the Government move ahead with the Small and Medium-Sized Business Development Bill.
"This Act would be like a 40th anniversary gift to the Bahamas," he said.
"We never had any kind of serious legislation that addressed the needs of the small business owners. This will be the cure for all challenges because it will address all the issues - the marketing issues, the funding and the business support.
"It will address all that is needed to build a small business development network between the Government, private sector and the international market."
Mr Turnquest argued that the most significant issue impacting small and medium-sized enterprises was market access, with management being the other major issue.