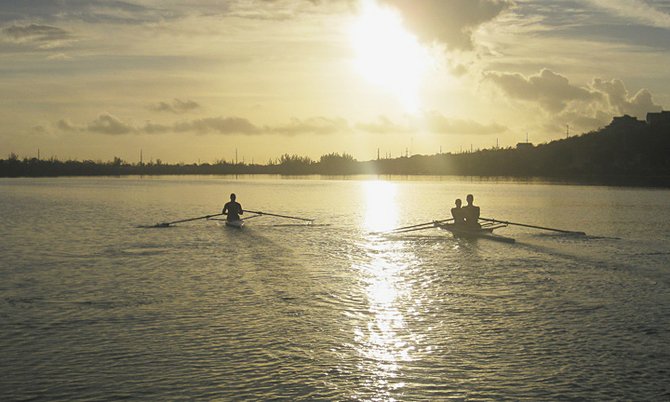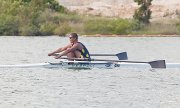 By Fay Knowles
MOST people believe the Bahamas is just sun, sand and sea, but go down to Lake Cunningham on most weekends and you'll see a new national sport emerging that will reach great heights in the international arena.
In early June 2012, The Nassau Rowing Club (NRC) began a land-based training programme, based on training programmes from top university and club rowing teams. The NRC was formally established on August 10th, 2012, by six rowing enthusiasts with the aim of developing the premier competitive rowing program in The Bahamas for rowers of all experience, age and fitness levels. Rowers adhere to a rigorous training on the rowing machines (ergometers), and train in a single or double scull on Lake Cunningham every weekend to develop their fitness and hone their rowing technique.
This Saturday, February 23rd, The Nassau Rowing Club will hold a twelve-hour Ergathon from 6am to 6pm at Club One, Sandyport. The event will raise money to pay for the shipping costs from Miami of two boats, a coxed four and a double scull, to expand their programme and get more people in New Providence onto the water.

The boats were purchased with NRC members' personal funds from the Rivanna Rowing Club in Charlottesville, Virginia. The NRC states that they face a significant financial challenge to have the boats landed in Nassau and that the boats represent the foundation of what promises to be an exciting athletic avenue. They say, "Transporting them here presents the final major hurdle in the development of the NRC and for rowing in The Bahamas."
"An Ergathon is essentially a walkathon, except with people switching on and off a rowing machine in half-hour shifts for twelve hours straight, " says Kyle Chea, Interim President of the NRC, and an All-Bahamas Merit Scholar (2006) and former Vassar College Men's Rowing captain (2009-10).

Still an active rower, Kyle competed for Vassar in the Alumni Eights division at the prestigious Head of the Charles Regatta in Boston, Massachusetts in October. He holds a Level I Coaching Certification from USRowing, the governing body for rowing in the United States, and for several months in 2011 he rowed for the Royal Hong Kong Yacht Club Senior Men's Rowing Squad.

Kyle explains that an Ergathon is a popular way for rowing teams to raise money and show how much work rowing requires as a sport.

There will be free tutorials at Saturday's Ergathon on rowing technique (on adjacent rowing machines). Kyle says, "You will also be able to see how well you can compete with our rowers in mini-sprint challenges throughout the day, so we expect that this will be a great way to get the community involved and spread awareness about the Rowing Club and the sport."
Rowing paraphernalia, such as jackets, race uniforms, shirts and medals, will be on display on Saturday, as well as an actual single scull.
The NRC has also partnered with the Lyford Cay International School (LCIS) to establish a pilot junior rowing programme, and has provided coaching to several students informally since April of this year, including Nicholas Mindorff, Class of 2013, who placed ninth overall in the Under-23 Men's Double Sculls at the 130th Royal Canadian Henley Regatta in August 2012. He and Tevin Creary-Roberts, also Class of 2013 are training to compete in the Junior Varsity Boy's Double Sculls (2x) at the Miami International Regatta as well.
The students are being trained for time trials to become eligible for financial aid for university through rowing. The Nassau Rowing Club states, "We hope that as the NRC grows, we can enable Bahamian rowers to take advantage of rowing scholarships from top universities in the United States, the United Kingdom and Canada."
The NRC hopes to develop competitive rowing programmes for its members, and is currently focused on training the current core group of rowers for the Master's 4+ Division in the 40th Miami International Regatta on 6 April 2013. This core group includes Chris Ansell, Alec Packington, Shawn Sawyer and Henio Podlewski. NRC is also raising funds to defray costs for the two crews to travel to Miami to compete in the Regatta there.
Asked if the Rowing Club is aiming for the Olympics, Kyle says, "I'm not sure if I am personally gunning for the Olympics, but as a club, our goal is to prepare our rowers to be competitive in the Olympics, much like many clubs such as Leander Club, Molesey Boat Club, Oxford University Boat Club and Cambridge University Boat Club are feeder programs for the Great Britain and other national rowing teams.
Lead sponsor for the event is Holowesko Pyfrom Fletcher, Counsel and Attorneys-at-Law. Other corporate sponsors are Bank of The Bahamas Ltd., Club One Fitness Centre, Lyford Cay International School, Elite Pools, and SunTee.
With current membership, funds available for equipment, and growth, are limited. Kyle says the NRC are still working out membership and other training fees.
This Saturday, interested persons can come to Club One and donate in person by cash or by cheque, or contact nassaurowingclub@gmail.com if they wish to indicate that they will make a pledge, then donate at a later date.
The Nassau Rowing Club states, "We have achieved many successes thus far, solely through the personal funds of current members. However, as rowing is a capital-intensive sport, we would greatly appreciate any financial assistance in the acquisition and transport of these boats, the oars and the necessary equipment to support the development the NRC, and promote the sport of rowing in The Bahamas."
And as Kyle Chea says, "Come out on Saturday at Club One and give rowing a try, then you'll know why we all look the way we do once we get up for water!"