By LAMECH JOHNSON
Tribune Staff Reporter
ljohnson@tribunemedia.net
A JAMAICAN man recently charged with breaking into the home of a millionaire's daughter found himself back in Magistrate's Court yesterday facing a charge of armed robbery.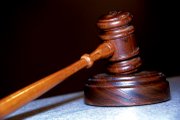 Jermain Ramdeen, 25, of Marshall Road, appeared before Chief Magistrate Roger Gomez yesterday facing one count each of armed robbery and receiving in connection with an incident that occurred on December 17.
It is claimed that on the day in question, while armed with a gun, he robbed rob Angelo Hield of a $4,700 valued 2001 Honda Civic, a $250 Blackerry cellphone, a $500 Toshiba laptop, a wallet and Bahamian driver's licence.
It is further claimed that Ramdeen received the Honda Civic.
Ramdeen was not required to enter a plea to the charge of armed robbery, but he did plead not guilty to receiving.
Chief Magistrate Gomez told the accused that his case will be fast-tracked to the Supreme Court for trial through a Voluntary Bill of Indictment, scheduled to be served on June 26.
On April 16, he is scheduled to be served with another VBI in connection with his October 7, 2012 burglary, theft and armed robbery case.
Ramdeen was arraigned in early January on those charges, along with a charge of stealing.
It is claimed that between 7.30pm and 10.30pm on October 7, 2012, he broke into the West Bay Street home of Bianca Nygard, daughter of Canadian fashion designer Peter Nygard.
It is claimed that he stole an Apple laptop, a Dell laptop and a Toshiba laptop together valued at $3,150.
It is also claimed that around the same time, Ramdeen broke into the West Bay Street home of Margaret Mullin.
It is alleged that while armed with a crowbar, he robbed Miguel Parada and Margaret Mullin.
Parada was robbed of a Seiko watch, a gold bracelet, two pairs of diamond earrings, two pairs of diamond necklaces, three gold hoop earrings, an iPod, an Apple laptop, sunglasses, a sweater, and a knife, together valued at $5,450.
He was also robbed of $6,000 cash.
Mullin was allegedly robbed of $480 cash and a blue 2008 Murano Jeep worth $30,000, the property of Nygard Holding Limited.
Other than the stealing charge, the Jamaican was not required to enter a plea to the other charges.